What Type of Suspension Does A Subaru Have? | How Does The Subaru Suspension System Work?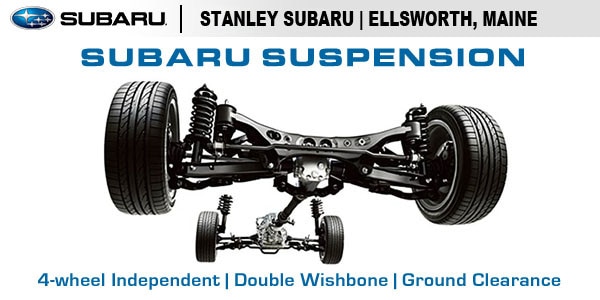 4-Wheel Independent Suspension
Subaru suspensions are designed for ground clearance and dynamic balance to handle whatever the road throws at you. Whether you're looking for the sporty handling and dynamic cornering of the
Subaru WRX,
or the extra ground clearance of the
Subaru Outback
or
Forester
that allows for smooth handling on and off the road, the
4-wheel independent suspension system that is found on every Subaru
has it all. This system offers a dynamic balance between smoothness and taut, responsive handling.
Visit Stanley Subaru today
to experience Subaru's 4-wheel independent suspension system for yourself!
Subaru Vehicles Utilize a Double Wishbone Design
The smooth responsiveness of the double wishbone rear suspension helps to tame the harshest of road surfaces. It reacts to bumps without upsetting the composure of the vehicle and is fine-tuned to maintain sharp control, letting you take on the challenges of the road with calmness and confidence.
Ground Clearance
When it comes to handling whatever the road throws at you, every Subaru starts with a smooth ride that 4-wheel independent suspension brings. And when that road tends to be more gravel than pavement, both the
Forester
and
Outback
offer raised suspensions for added ground clearance, up to 8.9 inches to be exact. So no matter which trail you choose to travel, you will certainly enjoy a smoother ride. Even the new
XV Crosstrek
provides 8.7 inches of ground clearance.
Spirited Handling
Bumps in the road are not a problem with the Subaru 4-wheel suspension; it handles them without upsetting the chassis or disrupting your comfort and control. The
rear suspension features a double wishbone design
that is fine-tuned to achieve the balance of sharp control and unbeatable comfort that makes a Subaru fun to drive, no matter where you're going. Whether it's a trip to the grocery store, or a Maine road trip, Subaru's compact and low profile design leaves more room for cargo, and gives you a one-of-a-kind driving experience.
Ruggedly Capable Suspension
No matter how rough the roads, Subaru's rear suspension double wishbone design can handle it, making every adventure more rewarding. Responsiveness is smooth, and helps to tame even the harshest of road surfaces. And because it reacts to the bumps in the road without upsetting the poise and balance of your vehicle, you'll always feel in control of your vehicle and in touch with the road. And with its low profile, compact design, the rear suspension does not intrude into the rear cargo area, giving you more useful space to fit all the gear you need for your next adventure.
Sport-tuned Performance
Subaru has taken on some of the most challenging courses and competition in motorsports, which in turn has helped them a develop a suspension system that allows you to have control on the world's most challenging roads, while still handling everyday driving with laid back confidence. The 4-wheel independent suspension found on the
Impreza WRX
and
WRX STI
, paired with Subaru's Symmetrical All-Wheel Drive, give you incredible agility and tenacious road grip.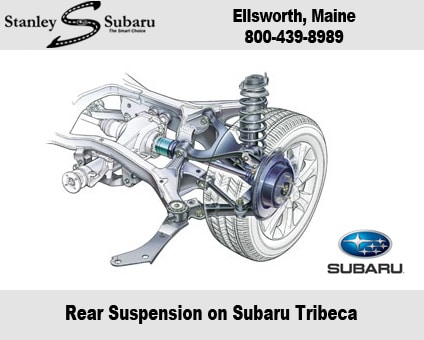 For a more technical explanation of
how multi-link suspensions work, click here
. There is also information on
Subaru Core Technology
, such as
How All Wheel Drive Works
,
How CVT Works
, and more on the Stanley Subaru Scoop!