Last updated for 2020 model year
What are the differences between the Subaru Outback and Subaru Forester?
We're not comparing apples to oranges, it's more like comparing the different varieties of "All Wheel Drive apples." Foresters and Outbacks have many differences in terms of ride quality, dimensions, price, ride height, style, transmission options, engine size, and fuel economy, but they share an unbeatable safety record, 8.7" ground clearance, and magnificent winter handling.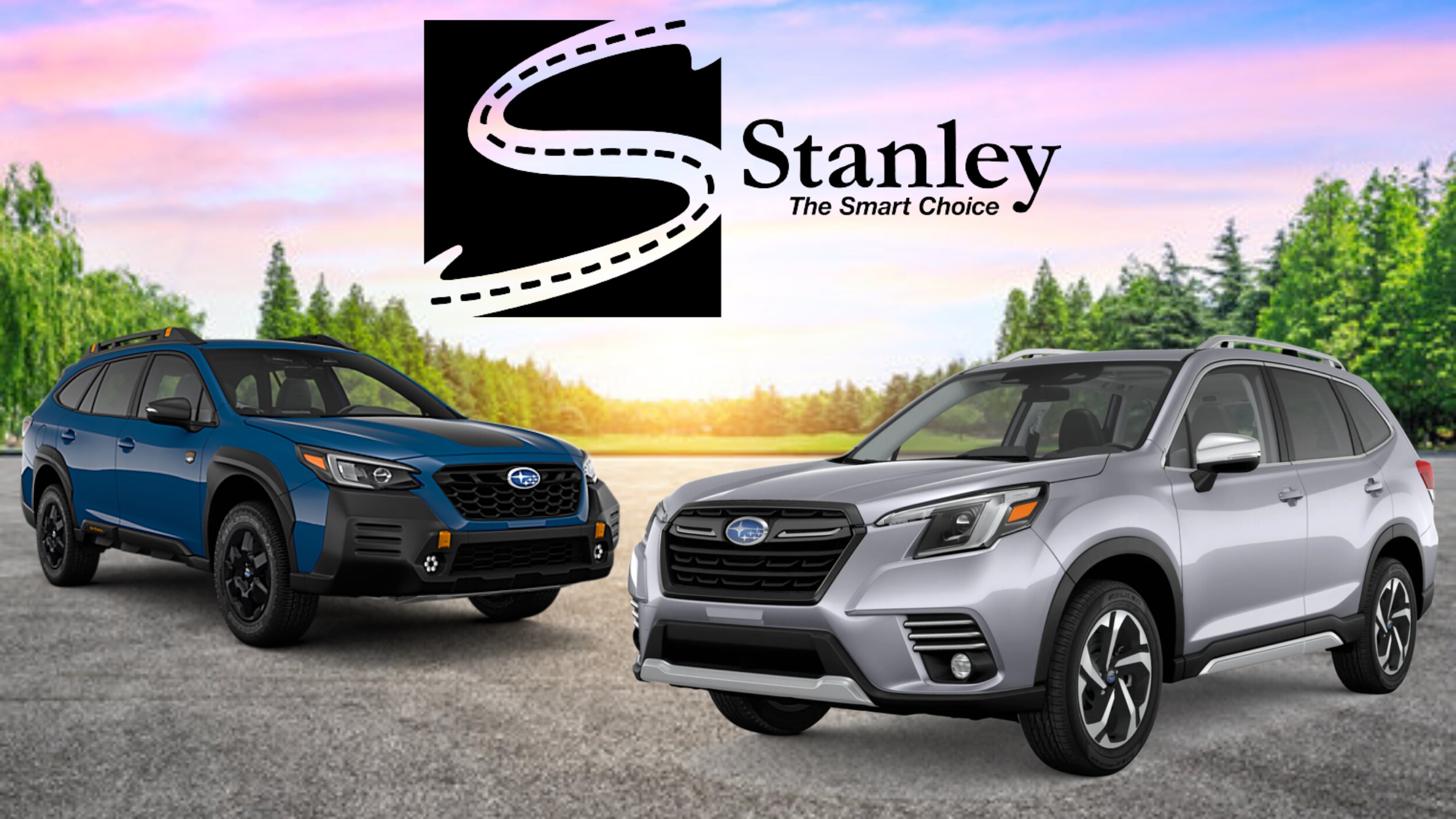 "What is the difference between the Forester and the Outback" is the most common question we hear at Stanley Subaru. The Outback is Subaru's number one seller, and Forester is a close second.
The Outback is a longer, more substantial vehicle, a "midsize crossover," whereas the Forester is a "compact crossover." The Outback looks and feels more like a wagon; the Forester looks and feels more like a small sport utility vehicle. Comparably equipped, the Outback is typically about $2,000 more. Many shorter drivers like the Forester's high perch; other drivers prefer the Outback's smoother ride and European handling.
Both are on winning sprees with yet another "Top Safety Pick Plus" award for both from the Insurance Institute for Highway Safety. They offer the utility and all-weather prowess of a sport utility vehicle with the lower cost, higher fuel economy, better ride, and superior outward visibility of a car. They boast many safety features, including full-time symmetrical all wheel drive (with no buttons to push).
Ride Quality:
In terms of Ride Quality, the Outback has a longer wheelbase (distance between the axles is 3 inches longer than the Forester). Think of a stretch limousine - lengthening the distance between the axles provides a smoother ride because the vehicle platform covers more square area and therefore bumps are less noticeable. Since the Forester has an SUV-style suspension, the axles are closer together. This gives the Outback an advantage, if a smoother ride is what you're looking for.
But don't think that the Forester has a harsh ride; in fact, it rides much better than its small sport utility competitors. There have been many improvements in ride quality and interior comfort in the latest Forester. The interior has richer materials, more insulation, less road noise, upgraded tech, and available reclining rear seats and is a great improvement over the previous generation of Forester. Folks who have had Foresters previously will be pleasantly surprised by the quieter interior when they go for a ride in the newer Forester.
Dimensions:
The Outback is nearly eight inches longer and one inch wider. The Forester is about five and a half inches taller. When comparing maximum cargo volume, if you were to, say, put ping pong balls in both cars, you would have slightly more ping pong balls fitting into the Outback, with 75.7 cubic feet (vs. 70.9).
Have big kids? Go for the Outback and its larger backseat. Have a big dog? Go for the Forester because the rear door on the Forester is more erect and there is more height for your pooch to stand up. Have just one or two small children riding in car seats? The new Forester has a fold down center armrest with cup holders placed at a child's arm height. Plus, there is a heavy duty interior step inside the rear doors to allow kids to climb into the back seat with ease. Cyclists tend to prefer the Outback, as the extra length makes it easy to throw a couple of bikes in the back without even removing the wheels.
If you travel long distances frequently and you're tall, you'll prefer an Outback. If you are short, or have difficulty getting in or out of low vehicles, the Forester may be best.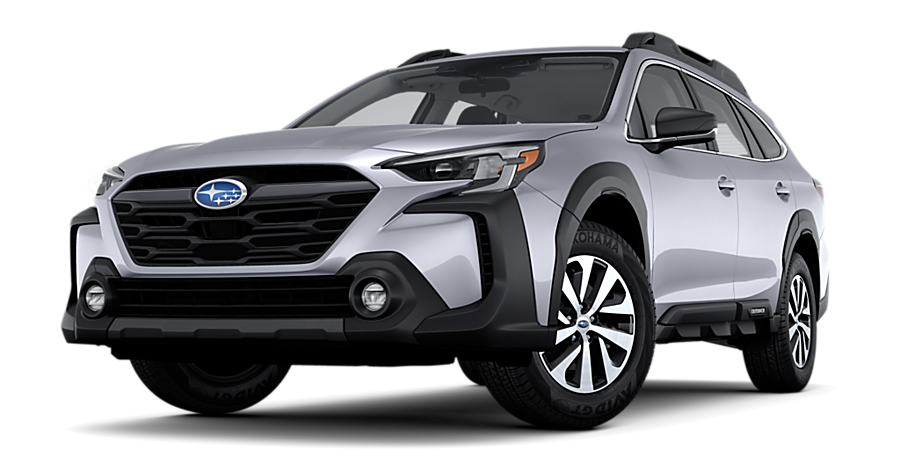 Price:
At starting prices, the Outback is about $2000 more than the Forester. That difference gets you a slightly bigger vehicle with more standard equipment, including a slightly larger touch screen display and the SUBARU STARLINK system.
Optional features are available for every variant at an additional charge.
Ride Height:
As for ride height, you will sit slightly higher in a Forester, but Subaru engineers designed both vehicles with a "command driving position" (the auto industry term that describes that great feeling of sitting high in a vehicle so you can see what's ahead.)
Because of the SUBARU BOXER engine design, the center of mass in the vehicle sits quite low so both vehicles handle quite nimbly and are very unlikely to roll over. Ground clearance is the same, at almost 9 inches, so both vehicles elude obstacles that ensnare mere mortal vehicles.
Style:
Overall image is a determining factor for Subaru shoppers. Many guests will tell us that the Outback looks more like a station wagon and the Forester looks more like a sport utility vehicle, and therefore the Forester is "cooler" or "sportier". You can use either Subaru model to ferry your family, pets, kayaks, bikes, or even fill the cargo space with mulch for the garden!
Both models come with the cargo tray and cargo cover available, so no nosy peepers can see all the crown jewels/dog food/garden mulch you drive around with in your vehicle. Staff opinion is equally divided on the matter, which, ultimately, is just one of personal taste.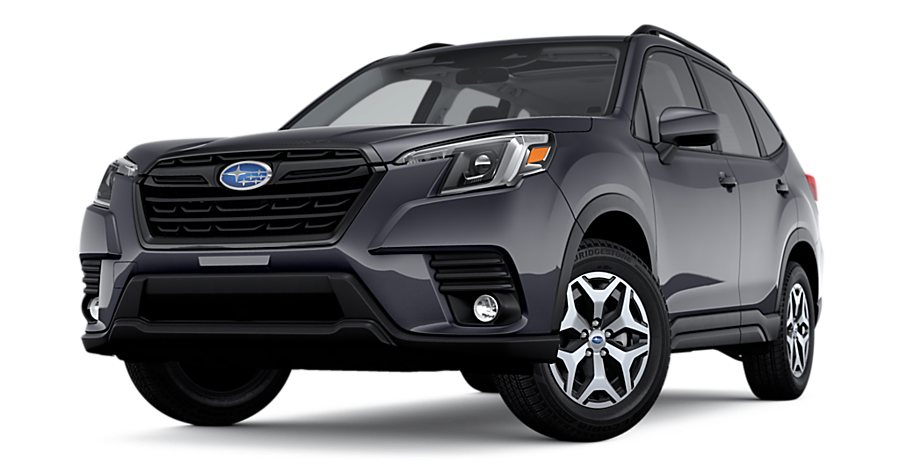 Transmission:
The Forester has Subaru Lineartronic CVT and has since model year 2014, which the Outback has had since 2010. CVT is short for continuously variable transmission, meaning it has has no gears. In very simple terms, it's a fantastically durable steel belt that moves along a cone. The fatter part of the cone for speed, the narrower part for power.
The Outback has a lineartronic CVT with Hill Descent Control and X-Mode standard on all trims. Have the urge for a little more direct control? Manual-mode paddle shifters are standard on all Outbacks.
The Forester has Lineartronic CVT, and standard on all Forester Premium, Sport, Limited, and Touring are Hill Descent Control and X-Mode. For that manual feel, the Forester Sport has paddle shifters that put you in control.
Engine size:
Both the 2.5i Outback and 2.5i Forester have the same powerful 2.5-liter DOHC aluminum-alloy 16-valve horizontally opposed SUBARU BOXER engine with Active Valve Control System.
In terms of engine power and torque, they both feature 182 hp @ 5800 rpm and 176 lb.-ft. torque @ 4400 rpm.
Fuel Economy:
With the standard 2.5 liter engine and CVT, both the Outback and the Forester are EPA rated for 26mpg city/33 mpg highway.
There are many factors that play into fuel economy, such as city vs highway driving, paved vs dirt roads, and personal driving habits. Unleaded gasoline with minimum 87 octane recommended for all Outback models and 2.5i Forester models. The Forester has a 16.6 gallon fuel tank, while the Outback holds 18.5 gallons.
Towing Capacity:
If you have heavy things you tow around, opt for the Outback. The Outback has a maximum towing capacity of 2,700 lbs. The Forester has a maximum towing capacity of 1,500 lbs.
Safety Features:
The Outback and the Forester both earned IIHS Top Safety Pick+ Awards and scored Superior in Front Crash Prevention, the highest possible score. Both feature the award-winning Subaru EyeSight system standard on all levels, and they come equipped with several other Active and Passive Safety Features.
For Active Safety Features, both have Subaru Symmetrical All Wheel Drive (AWD), Subaru Boxer Engine, 4-wheel anti-lock brakes (ABS) with Electronic Brake-force Distribution (EBD), Brake Assist, Brake Override System, Vehicle Dynamics Control, Traction Control, Tire Pressure Monitoring System, and Daytime Running Lights.
And both the Outback and the Forester have Passive Safety Features including driver and front passenger front airbags (SRS), Subaru advanced frontal airbag system, side-curtain airbags (SRS), front-seat side pelvis/torso airbags (SRS), height-adjustable front seat head restraints, height-adjustable 3-point front seat belts with pretensioners and force limiters, 3-point rear seat belts at all seating positions, rear child-safety door locks, whiplash-protection front seats, rollover sensors, pillar-to-pillar support beam for collapsible steering column, and the LATCH system (Lower Anchors and Tethers for CHildren).
Final Answer:
Test Drive Both!
Schedule your test drive today and experience the Outback and Forester for yourself!
Either vehicle makes a good choice for Northern climates, as they handle snow, sleet and ice with equal ability, thanks to Subaru Symmetrical All Wheel Drive. Both vehicles are Top Safety Pick Pluses according to IIHS (Insurance Institute for Highway Safety).
Hopefully the explanations above help you in your decision, one that ultimately comes down to your travel needs, space requirements, and personal taste. Safe travels and many happy miles with your Subaru!