We were recently interviewed for the Subaru Eco-Friendly Newsletter about our certification! We're really proud of our achievements, and we were honored that Subaru wanted to talk to us about what we accomplished. The interview is reproduced below.
* * * * *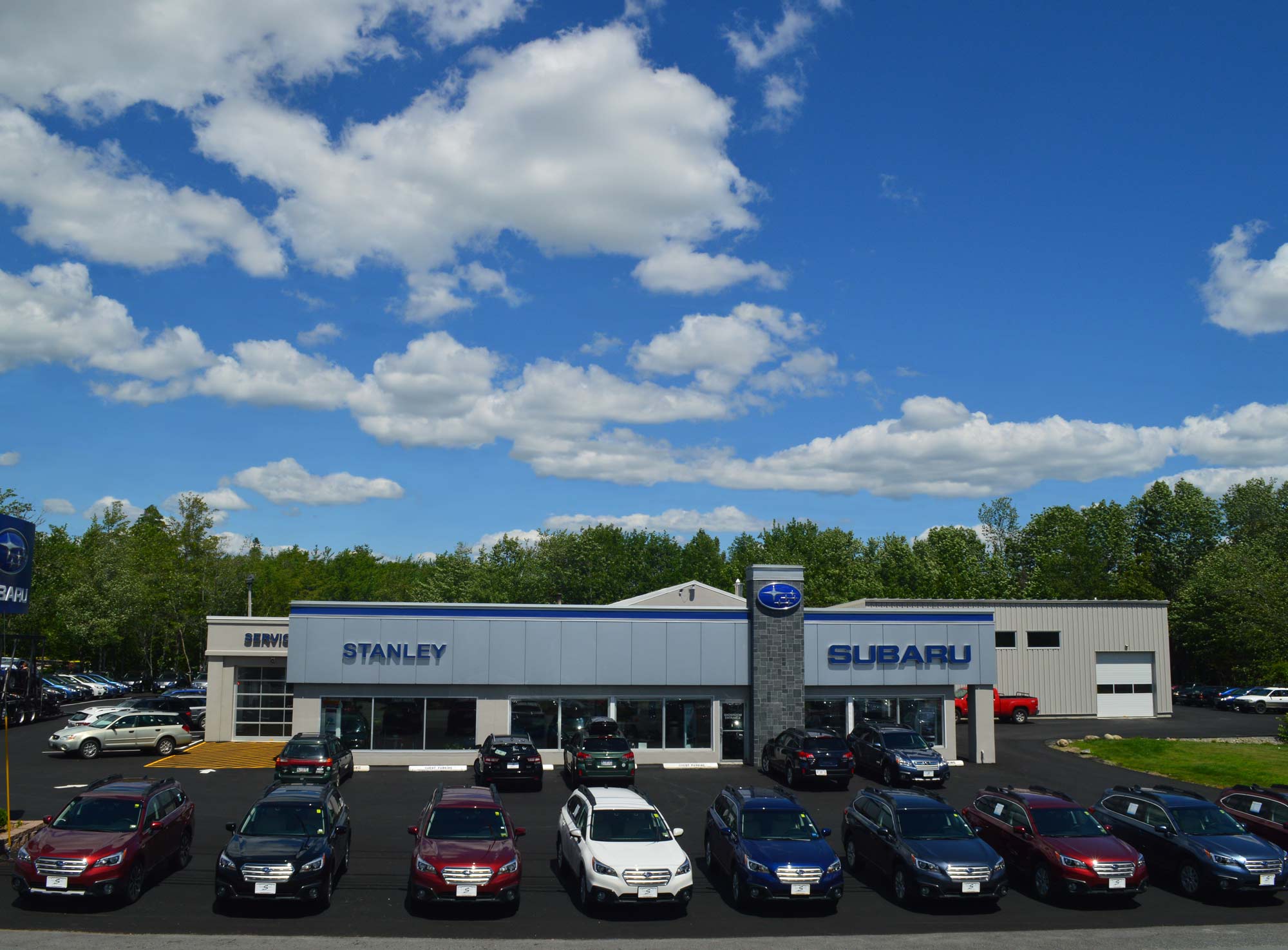 Renovation Brings Green Opportunities for Stanley Subaru
Stanley Subaru in Ellsworth, ME, is loved by its community. So much so, its facility couldn't handle the volume of business. That's when dealer principal Mark Politte knew it was time for a major renovation.
The project started in April 2016 with the goal of expanding the service department. Politte wanted to reduce the wait time for a serve appointment and add on-demand access — eliminating the need for an appointment for basic service. Innovations didn't stop there. Sales, parts and the showroom received improvements, and along the way the retailer turned the renovation into a major eco-friendly opportunity.
Spencer Patterson King (SPK), Stanley's communications coordinator; and Jason Craig (JC), business development coordinator; shared details about the remodel with the Eco-Friendly Retailer (EFR) team.
EFR: Stanley Subaru underwent a major remodel last year. We'd love to hear details about how eco-friendly building practices, materials and/or fixtures were included in the project.
SPK: At Stanley Subaru, we've always been committed to incorporating as many green practices as we can, and since our remodel touched almost every inch of the dealership, it gave us a chance to make some improvements we've wanted to do for a long time.
We took the opportunity to upgrade some of our previous efforts. For years, we have recovered used oil from every oil change, and we use that to heat our buildings. We were able to upgrade oil recovery and storage. We increased the percentage of our dealership with access to natural light, reducing our electricity needs. We changed every fixture to LED lighting, further reducing our electricity load. Heating and lighting make some of the biggest impact a business has on its environment; increasing our efficiency like we have does a lot to reduce that impact.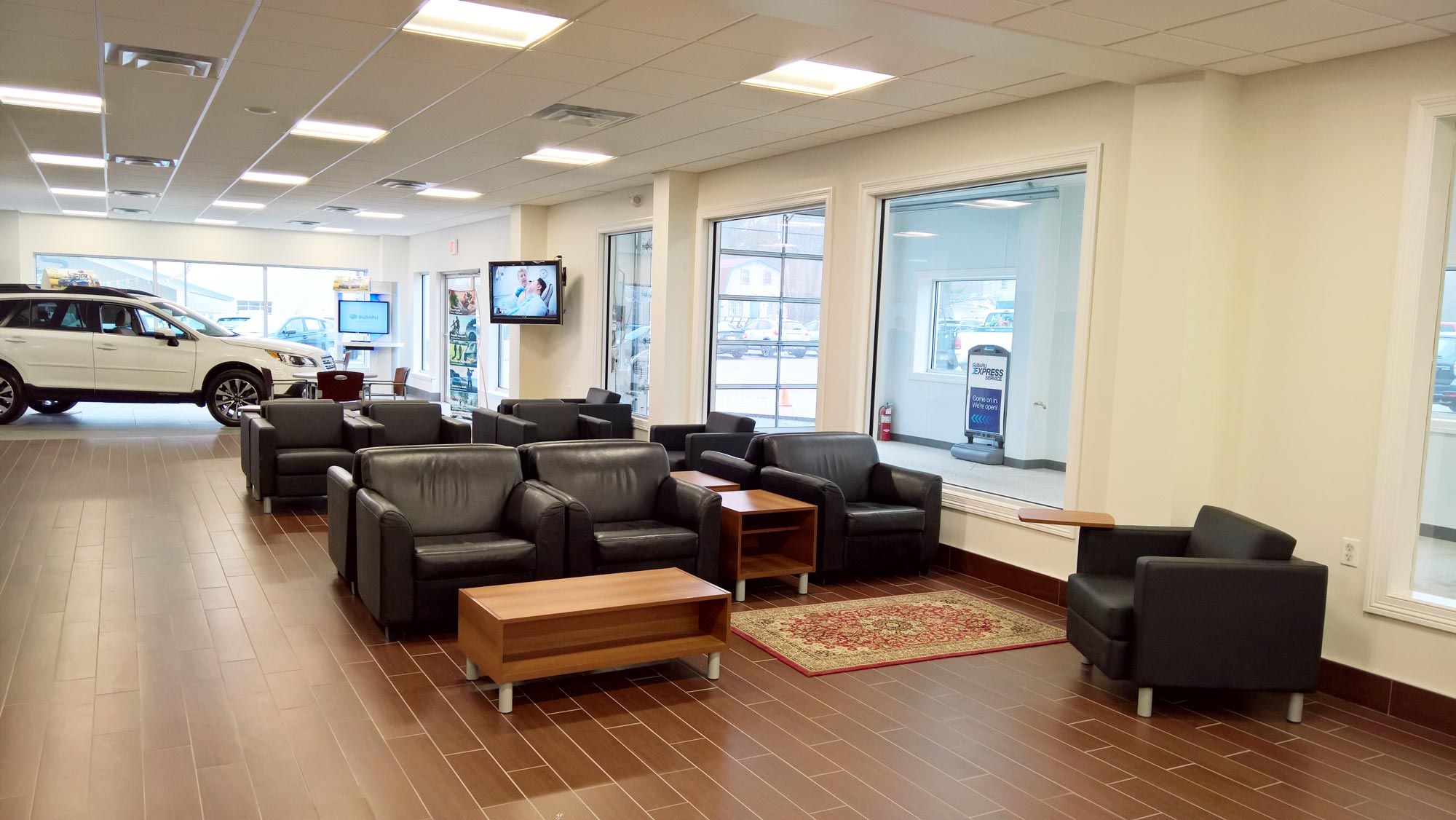 LED lighting and an increased use of natural light were elements of Stanley Subaru's recent remodel.
EFR: Can you tell us about your recent grand re-opening event and how you tied in your Eco-Friendly Retailer certification?
SPK: We are really proud of our Eco-Friendly Retailer certification, and it was a key feature in our facility tours. At our grand re- opening events, we started tours wherever our guests were. Since we feature our eco-friendly plaques throughout the dealership, it was usually one of the first things we highlighted with the new facility. They also provided a great through-line in the tours to carry our guests from space to space and talk about what has changed in each place and why it will benefit our guests.


Plaques are placed throughout the building to highlight the retailer's eco-friendly practices.
EFR: What type of response have you received from the local community regarding your certification?
JC: To date the responses and support from our community have been tremendous. We live in a community that is very in tune with the environment and conservation efforts (we are located only 15 miles from Acadia National Park). With our grand re-opening, we gave our guests tours of the entire dealership, highlighting our efforts at environmental stewardship, not only what we had done previously, but what our new construction allowed us to add. Our guests have long known that we are environmentally friendly...the tours and re-opening gave us the chance to explain specifically how we were and are able to accomplish that.
EFR: How did you arrive at the design of your eco-display, and is it a static display or will it change with events, seasons, etc.?
SPK: Our eco-display has a prominent place in our guest lounge, because we're proud of what we accomplished, and we're grateful that Subaru cares enough to have the program in place. While our permanent display will likely remain the same, we will feature our community partners throughout the year in other parts of our guest lounge. These displays will highlight our work with our neighbors appropriate to the season, whether it's trail beautification with Friends of Acadia, e-waste recycling with Ellsworth Rotary Club, or land preservation with Frenchman Bay Conservancy.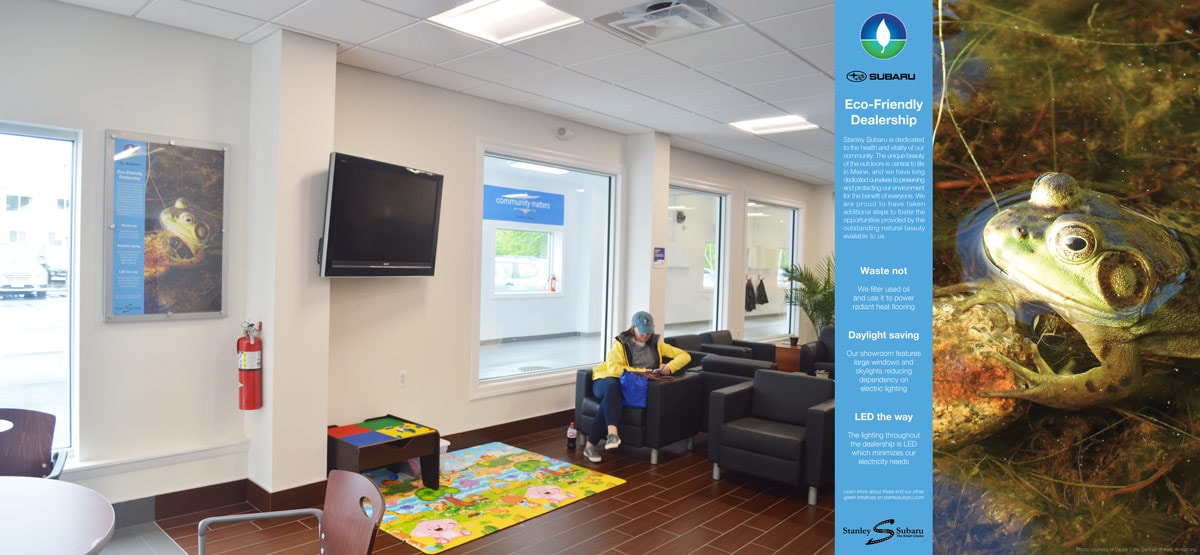 Shown up close on the right, Stanley Subaru's eco-display overviews its green advancements. In the future, the retailer plans to add elements featuring community environmental partnerships. Photo credit on the eco-friendly poster: Laurie Cote
EFR: Stanley Subaru supports many community organizations and causes. Please provide some information about your community work that relates to environmental causes.
SPK: Enjoying the outdoors and conservation of natural beauty is a big part of life in Maine for our guests and our team. We're lucky in that we have so many local organizations we get to work with that share those commitments. We were an Acadia Centennial partner in 2016, celebrating 100 years of Acadia National Park with volunteer group Friends of Acadia. We also provide support to groups like Maine Coast Memorial Hospital, Woodlawn Museum, Frenchman Bay Conservancy, Ellsworth Garden Club, Bar Harbor Garden Club, Garden Club Federation of Maine, Healthy Acadia, and Camp Beech Cliff, all of which encourage outdoor activity and fun. Even community partners like the Abbe Museum have strong ties to conservation. It seems like a lot listed out like that, but it is so easy working with these organizations, because we all share a deep appreciation for our environment.
Read more about Stanley Subaru's remodel and see project videos. Let us know about the big and small eco-friendly activities at your organization. Send details to Chuck Golden at [email protected]