The 2020 Subaru Love Promise Customer and Community Commitment Award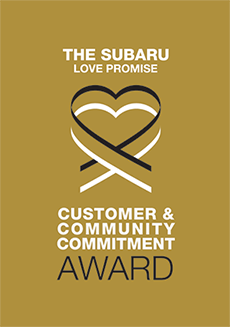 We've been nationally recognized for our dedication to our customers, our community, and the Subaru Love Promise.
We're honored to receive the 2020 Subaru Love Promise Customer and Community Commitment Award. This award nationally recognizes elite Subaru retailers who provide an exceptional customer experience at every interaction with Subaru. These retailers have also demonstrated an outstanding commitment to supporting passions and causes in their local communities in important areas such as the environment, community, health, education, and pets.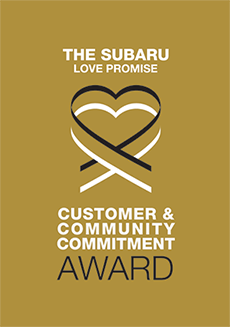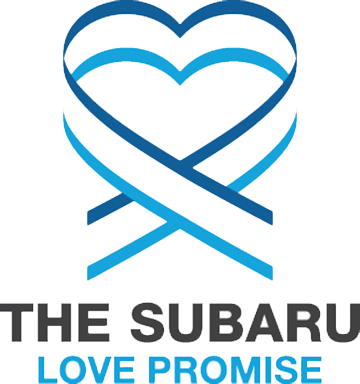 What is the Subaru Love Promise?
Subaru and our retailers believe in making the world a better place and the Subaru Love Promise is our vision of respecting all people. This is our commitment to show love and respect to our customers and to work to make a positive impact in the world.
How is Stanley Subaru dedicated locally to the Love Promise?
What is love? Love is taking care of and supporting the communities we live and work in. Love is contributing to the people and places that make living in this community worthwhile. Love is lending a helping hand to non-profit organizations, schools, hospitals, and our neighbors in need. Stanley Subaru has made it part of our mission statement to contribute and support the communities that support us. The Subaru Love Promise is about neighbors helping neighbors, sharing the love throughout our communities, and following through on our commitment to support the people who support us. Stanley Subaru promises to continue and expand our efforts within Eastern Maine and continue to surprise and delight our guests. We make this promise to our community, our employees, and to you--our loyal guests. Thank you.
SPCA of Hancock County, ARK animal shelter
Acadia National Park, Friends of Acadia, Ellsworth Garden Club
Teacher Appreciation Month, George Stevens Academy, Blue Hill Consolidated School, Ellsworth High School
The Grand Auditorium, Community Closet, Emmaus Center Homeless Shelter, Stonington Opera House Arts, Ellsworth Noontime Rotary, Bar Harbor Food Panty
Maine Coast Memorial Hospital, Hospice of Hancock County
Love Promise Stories from Stanley Subaru
Subaru and Stanley Subaru believe in making a positive impact on the communities in which we live and work. We uphold that belief through our Love Promise Community Commitment. Every month, we select inspiring stories from customers and partners from around our area who strive to support our collective commitment and feature them here
Floral Heart Project - Loretta L
The Floral Heart Project was started by my sister in law, Kristina Libby, to help provide healing, compassion and sympathy for those impacted by Covid-19. When the pandemic first hit NYC, where Kristina now resides but a Maine native, she was heartbroken that thousands of people were dying without funerals and their families were left without the traditional grieving practices. So, she started to make floral hearts to visualize her grief and to allow others to access their own grief and to have a moment of comfort. She started to place these hearts in different locations from Times Square to The Brooklyn Bridge and they were well received. People came to mourn their lost loved ones and to find the closure they needed. She chose flowers as they are a traditional gift during loss and hearts because they are a simple way to showcase love and support. On March 1, 2021 because of The Floral Heart Project, 100+ hearts were laid across the United States. When Samantha and Mark Politte of Stanley Subaru were first introduced to the idea of sponsoring a floral heart, they didn't hesitate for a second and fully embraced the project! With their generous support, along with The Bud Connection, a beautiful heart was laid in Knowlton Park in Ellsworth Maine and another at The Town Green in Blue Hill Maine to honor lives lost from COVID-19. I was truly honored to be a part of this event.
---
Maine Coast Hospital grateful for Stanley Subaru - joann b
Stanley Subaru has been sponsoring an annual fund-raiser called "Test Drives for the Cure" since 2009 for the benefit of Women's health at Northern Light Maine Coast Hospital in Ellsworth, Maine. Every October during Breast Cancer Awareness Month, Stanley Subaru holds this fund-raiser to support a healthy, thriving community. They've raised over $23,000 for preventative breast health care since the program began. Stanley guests can take a test drive, no purchase necessary, and Stanley donates $10 in their name to mammography scholarships at Northern Light Maine Coast Hospital. This year, due to COVID, every vehicle was sanitized inside and out between every use. Also, Stanley's guests were able to donate $5 and receive a pink ribbon magnet that says, "Driven for a cure," and Stanley matched it with another $5. The $10 total donation was donated to local mammography at the Breast Clinic at Northern Light Maine Coast Hospital in Ellsworth. From all of us at Northern Light Maine Coast Hospital, thank you to all of the folks at Stanley Subaru who have been and continue to be so very generous and supportive towards women's health in our community. Stanley Subaru is truly a leader in helping everyone in our community get the life-saving care they need.
---
Mulan Met Her Soulmate at Stanley Subaru - Kaitlyn M
While kittens are usually easy to place in homes, Mulan had a couple struggles: for one, her brothers were very fluffy and more outgoing than her, so they stole most of the attention. Mulan's litter came from a feral mother, and so she wasn't sure about humans even though she was young when she came to the shelter. She would often hide behind her siblings or bed when someone came to meet her. So we used the opportunity we had at the Stanley Subaru adoption events in October to educate the public on shy cats while also sharing cute photos staff managed to take of Mulan when she relaxed. It didn't take long after that for her to get adopted by a wonderful woman who has since kept us updated with progress reports on Mulan, now named Lovey because she's just that sweet!
---
Ross - Making Wishlist Magic Happen! - Kaitlyn M
Placing kittens in homes isn't particularly difficult at a shelter - everyone loves cute baby animals, after all. What is difficult is managing the demand for kittens, especially cute and friendly ones like Ross. Ross came from a big litter, so we found the best way to line up perfect homes for them was to create educational materials and flyers about "wish list applications" at the adoption events Stanley Subaru hosted in October. This has helped the community learn more about the adoption process, and as a result, many of our kittens have gone to good homes without having to grow up in the shelter, which is so much healthier for their immune systems and their emotional welfare.
---
Neptune & Gandalf - Everyone Needs a Friend! - Kaitlyn M
Most people who want a cat want the ones that come right up and play or love on them. Gandalf and Neptune are both young boys, and the interesting thing is they actually didn't know each other until they met at the shelter community room. Neptune was returned to the shelter because he hid so much his owner felt they weren't connecting, whereas Gandalf was found as a stray and had a hard time finding a home because of his unpredictable nature - was he going to love you or smack you, it was like a roulette! Then these boys met and connected in a way no one expected, and soon Neptune was always seen trailing after Gandalf and shelter staff knew we didn't want them to be separated. But they had both been in the shelter for months and were having a hard time being noticed, so how could it work out? We pitched them as a bonded pair anyway and used the opportunities we had at the October Stanley Subaru adoption events to tell people about this amazing pair of cats. And happily, it worked! They were adopted together and now have a family of their own.
---
Gus & Josie - Friends Fur Life - Kaitlyn M
Finding homes for senior cats can be hard enough, never mind when you have bonded ones, but we knew sweet Gus and Josie had to stay together. Big gray Gus is 16 years old but full of spunk and loves his little sister, Josie, and it was clear that tiny black Josie, who is 6 years old, needed to be by her brother to feel safe. Though they lost their original home, they didn't have to lose each other, and so we took pictures of the two together and posted them at our adoption events with Stanley Subaru throughout October. Happily, a wonderful family met them and decided to take them home!
---
Mother Maya & Pups All Find Homes! - Kaitlyn M
Maya came to us with her six newborn puppies and her mom, Josie. While Josie and Maya were sweethearts, neither had received much training in their few years of life, and so although the puppies were quickly spoken for and lined up for homes, it took a little more work to find suitable homes for Josie and Maya. Maya loves everyone but has a tendency to tear through a place like a wrecking ball and needs extensive training to help her learn house manners, so we made sure to feature this mom of six at our adoption events with Stanley Subaru throughout October in hopes we could reach a new audience that might take the chance on her. Fortunately for Maya, her new mom saw her and fell in love, and the two couldn't be happier together!
---
Rocky Found a Forever Home! - Kaitlyn M
Rocky is almost 7 years old and an extremely sweet couch potato - when he's with humans. However, he has such a high prey drive that he can't coexist with other animals and needs to not only be an only dog but kept away from neighboring pets. He was in the shelter for months throughout 2020, and that was his third long stint here. Finding him a perfect home was difficult, so when we lined up adoption events with Stanley Subaru throughout the month of October, we made sure to feature Rocky prominently and be honest about his needs. Fortunately, this helped spread the word about him to a new audience, and the perfect match showed up to meet him and take him home! Thank you so much, Stanley Subaru, for helping Rocky find his forever home!
---
Maggie the Medical Wonder Dog - Kaitlyn M
Maggie was surrendered to us as an older puppy experiencing seizures that her family couldn't afford to treat, and though she was a lovebug, she struggled to read dog cues and find a home. Then she made her first public appearance at a Subaru Loves Pets event in February 2020, and she was adopted shortly after that. Unfortunately, tragedy struck her home, and she ended up back at the shelter - during another month when Subaru was sponsoring the shelter, of all times! This time, she was barely at the SPCA for a day! The perfect family was already waiting for her where one member also experienced seizures and knew exactly how this pup felt.
---
Teacher Appreciation with The Bud Connection - Barbara C
When seeking a co-sponsor for this special promotion I knew immediately that I wanted to have Stanley Subaru partner with me. I have in the past worked with them on events and they are class all the way. They graciously helped us with the distribution of flowers to the Blue Hill School district and provided support in any way we asked them. The response from the teachers and community has been amazing. I included a picture of one teacher, Dan Stillman at MDI High School, he may have said it best: "You helped to make these difficult first weeks of school feel like a community event! That is what a great partnership like this does to bring the community together. Thank you Stanley Subaru for being so awesome! Barbara & Mark Courchesne The Bud Connection 89 Main Street, Ellsworth Maine 04605
---
A Community Partner We Can Depend On - Vera F
As a small, local organization with big goals, we at the Bar Harbor Food Pantry depend on our community partners to ensure that we deliver on our mission to ensure that everyone has food on their table. And we know that we can rely on Stanley Subaru to help us with the heavy load - quite literally! Each month we receive a truckload of food from Good Shepherd Food Bank that helps us stock our shelves for the month. We all buckle down for a long day of unloading and organizing, prepared for sore muscles the next day. But this month our delivery day looked - and sure felt - different. Working alongside a team from Stanley Subaru, we unpacked our delivery in record time. They were a kind and hardworking crew, clearly passionate about both their work at the dealership and our work at the pantry. Plus, we are pretty sure they bring good luck - it was the first time in months that it didn't rain on order day! A huge thank you to the folks at Stanley Subaru for their dedication to our community! We so look forward to continuing this partnership.
---
My service today - Craig W
I was at your dealership today for service on our Forester. I just wanted to take a minute of your time to thank you for all of the safety precautions you extend to your staff and customers. Everyone I saw had a mask on. Even all of the customers! I feel like they took guidance from the atmosphere you created to keep everyone safe. I appreciated the hand sanitizers placed around the seating area, the seat distances, the sanitized keys, pens, safety shields, etc., etc. My service technician was excellent. As I visit a (very) few businesses, as necessity arises, I have found many have slacked in the precautions. Not so at your dealership. Thank you for taking the extra steps and costs to protect us, and your staff, during these difficult times.
---
Hancock County Healthcare workers Feeling the Love - Kelley C
How nice to pull in to the hospital to be greeted by such a warm and friendly sign. Earlier this month, Stanley Subaru posted "thank you" banners on the Northern Light Maine Coast (Ellsworth) and Northern Light Blue Hill Hospital campuses. Stanley Subaru has been a long-time, devoted supporter of healthcare in our local communities and we are so very grateful for their partnership. During this challenging time (for ALL), they went yet another step further. Knowing that for those working on the frontlines - schedules have been turned upside down, families are patching childcare together, and we are all taking one day at a time...Stanley Subaru is offering free, no-contact pick up and drop off from both our hospitals for scheduled car service (including a disinfectant wipe down). As many of our healthcare workers are not able to prioritize car maintenance, this is a gift of convenience and peace of mind. We are proud to work alongside such a caring business. Stanley Subaru -- Thanks for showing us some love!
---
Back on the road - Jackie W
You know the saying, "You don't know what you've got til it's gone!" Well, it's sort of how I felt when our van broke down. I knew I loved it, and I knew I needed it, I just didn't know how lost I'd feel without it. Especially since it became such an essential part of the store while delivering food to our elderly neighbors or those going without. So for the last week, I have had totes spread out around my kitchen and through my personal van, so that I could make the bags to deliver. It made me love the van even more and miss it like crazy. Stanley Subaru took the van and ended up replacing quite a few parts that went bad and then the engine control module had to be replaced. Needless to say, it would have cost us a small fortune to fix, which with the shut down, would have been scary. Stanley Subaru fixed and paid for the entire thing and I cannot be more grateful to have them as part of the Community Closet family. I hope you guys will help me in thanking them. This van is vital to us and we LOVE it! The ESSENTIAL MOBILE UNIT is back. When we got it back today, my brother and I took inventory, made a shopping list, and got it filled back up and ready to get back out there! Thank you Mark and the whole Subaru crew! You guys are the best!!!!
---
Subaru Loves Pets SPCA of Hancock County - Nicole M
At the SPCA of Hancock County, we know that we can count on Subaru. Maybe not totally in the way you might think - although since our staff parking lot looks like a Subaru lot, yes, we know we can count on our Subaru to get us to work! But we're thinking more along the lines of how often Stanley Subaru is there for the community and especially for the SPCA and the homeless dogs and cats who call our shelter their - temporary - home. Stanley Subaru helps in so many ways from supply drives, to adoption events, covering adoption fees for special adoption drives, taking care of the service for our much-used shelter van, and much-appreciated financial support. There are so many reasons that we are grateful for Stanley Subaru. They are truly life-savers. The dogs and cats who find their forever homes because of the SPCA of Hancock County are four-footed proof! It is for these reasons that the SPCA presented Stanley Subaru with our Humane Business Award. A huge woof and purr of thanks to you, Stanley Subaru!
---
Donations Donations - Tom K
Our Subaru Outback has been a huge help for our Meals on Wheels program. Before we had our Subaru, we were always worried about whether or not we had a vehicle big enough to transport donations for our program. Different things like pet food, large amounts of canned foods, Turkey Baskets during Thanksgiving, donated Christmas presents and anything else you can think of were all concerns before our Subaru. Now that we have our Outback, we have the extra space provided by the hatchback area and we can almost always fit donations for our programs. If we can't, we at least know that the Outback can take most of it which helps our staff not have to use their own personal vehicles. We can't say enough good things about our Subaru Outback. Subaru is helping to create a huge amount of impact in our area just by donating this car to programs like ours!
---
Perfect partners - Nicholas T
It's a dream of any nonprofit Executive Director to start a new position receiving a large donation check. That dream came true when I started at The Grand in Ellsworth and met Mark Politte of Stanley Subaru. I knew very little about Mark and Stanley, but what a great first impression - I thought, "This just might be a great community business and a great community leader". Three years later, I know this IS a great community business and a great community leader". Mark's actions speak volumes more than any financial contributions. He recognizes The Grand as a vital community center for arts and entertainment and an anchor for downtown - it's a great community organization and a great community leader. So we have the Stanley Subaru Stage at The Grand and we have the perfect partners on a mission to enrich and nurture community.
---
Thank you! - Lesley R
When I reached out to Mark Politte, owner of Stanley Subaru, I never imagined the response that I would get. Comfort Cases is a national charity whose mission is to bring some dignity and comfort to children as they transition into care. These children are often removed from their birth homes with nothing. If they have any possessions, they are generally carried in a trash bag. There is nothing good about that, and Comfort Cases is dedicated to eliminating that practice. I spearhead the Comfort Cases effort in Maine. With the help of Spencer Patterson King, Communications Coordinator, Stanley Subaru put together a fund-raiser to support Comfort Cases. They asked their customers to donate $20 to help pack Cases for children in foster care. They matched these donations, purchased backpacks, and then their staff went out and bought contents for the bags including brand new PJs, blankets, toiletries, journals with pencils and pens as well as books for children ages 0-19. The people behind the push for Comfort Cases at the dealership are Jen Rankin, Becky, Mark, Addie, Dawn, and Jen Cross. These kind, generous, and dedicated people carried Cases throughout the dealership to get donations, shopped for contents, and carefully and thoughtfully packed the Comfort Cases which now are waiting for children in three cars in the showroom. We had hoped for 30 completed Cases at the onset of this project. As we head toward the finish line on August 31, it looks like there will be 150 Comfort Cases to send to deserving children throughout the state of Maine. I am blown away by their success and generosity. I had the pleasure and honor to meet all of the people involved today, and "thank you" just didn't seem like enough. It was clear and so heartwarming to know that everyone involved sincerely wanted to help by putting their hearts, their time, and their pocketbooks into this effort. Stanley Subaru has shown what is possible when a community comes together for deserving children, and Comfort Cases couldn't be more grateful.
---
Helping a mother out - Rich L
It had a really good vibe down there. Helping people out is a very heartwarming experience, and that's why I personally do what I do. People come into our Parts department asking for help with their vehicle needs and I can provide them with the professional guidance they are asking for. That translates to the Community Closet in many ways. Instead of parts needs, these people are finding much needed clothing and food help. They even have dishes, shoes and toy's for the kids! So lending a hand down there was very good feeling for me. I went down to the Community Closet knowing we were going to help move boxes and totes, what I didn't expect was the guest that Jackie had come in. Jackie's guest told her she knew a young mother going through a rough time and could not afford to by her child anything for his birthday. She went on to ask Jackie if she had anything (clothes, toys) to donate her for the boy's birthday, and I overheard this conversation. I thought to myself, If I were in this situation and needed help what would I do? I promptly interrupted and said get whatever you want and I'll pay for it. The woman was ecstatic! She went and grabbed some clothing for the boy and I went and picked out a couple toys for him. For me it was the least I could do and I thought anyone who heard that conversation would do the same thing I did to help this mother out in her time of need. After that I went back to moving clothing and doing the heavy lifting for the workers. We moved a mountain of donations for the store that day, filled the shelves with good's people could purchase. The store looked good. I learned how essential it is to have a store like the Community Closet to help our neighbors in need. There are so many people out there that don't have the means to live, and I just want to do my part to help anyone I can. That woman spoke up for the young mother and her son, imagine all the people that don't speak up. The long winters we have here in Maine and the cost of heating oil alone could mean choosing between being warm and filling your stomach. If I can make even a small difference for someone (the elderly, homeless, or in this case a young mother) I will help anyway I can. With life being so busy it's easy to forget that there are people out there that need our help, and if we take a step back to think about it, we all could do a little more to help our neighbors in need.
---
My time helping Community Closet - Jessica W
I had the opportunity to aid twice while Stanley Subaru volunteered time to the Community Closet. I have lived in the Ellsworth area for 10 years now, and I had no idea the grave need this area had for an amazing place like the Community Closet. Jackie Wycoff is open to all wants and needs and takes in anything and everything she can that will benefit another. I was impressed with her ability to move and organize the literal truck loads of material in such a way to have the product quickly and efficiently available for the folks coming. From the perspective of a volunteer, it was a more than eye opening experience. Jackie works with anyone that walks in her doors to assist. She is able to find the right job for each volunteer and seems to do so effortlessly and always with an upbeat attitude. I found myself, on day one, completely emptying the third unit that was donated to Jackie for the summer. It was stacked high with old shelving systems, tables, racks, boxes, bags, etc. and so on. For four hours my group worked non-stop to successfully empty the unit. This unit is now being used to help Jackie pay her heavy heating, lighting, and leasing bills as she will have furniture in this unit for sale. My second trip over was a completely different task and experience of moving and sorting through bags to gender sort and stack so they could be hung and size organized and ready to head over the store. Again, Jackie was amazing with finding our tasks and giving direction to best benefit the folks that come to see her. Although the work was hard and never stopped, at the end of each day, I felt as though I was achieved something really great. While volunteering at the Community Closet I can't count how many times I heard folks expressing thanks and gratefulness for the service being provided. It was a very rewarding experience.I know that I have a place to go to in the event that a tragedy strikes my family. A place with open arms and resources made readily available. Judgment free. EVERYONE is welcome. Jackie will be there with a smile on her face and ready to help in anyway possible. It's truly amazing what is happening at the Community Closet.
---
Volunteering at Community Closet - Addie G
Working with Jackie and the other volunteers at Community Closet was an eye opening, inspiring experience.Being a local to Ellsworth, I heard many times of the impact Community Closet was making in our community, but it's another thing to experience it first hand while volunteering there. The outreach Community Closet has to our town is immeasurable - from providing affordable clothing and housewares to people of all walks of life, to providing necessary supplies to those having just lost all belongings in a fire, to providing food and blankets to the homeless 24 hours a day, seven days a week - it's impossible to trace the trickle effect of that generosity throughout our community. I was amazed to learn that Community Closet can serve up to 200 people a day - some receiving items for free, and others leaving what they can to help support the store.Jackie refuses to turn anyone down, and I don't believe the word "no" is a part of her vocabulary - she will help anyone and everyone in any way she can. Jackie truly inspired me to do more to help others. She reminded me that a person in need is an opportunity to help. She reminded me that one person can truly change the trajectory of another life. It was an honor and a privilege to spend time volunteering at Community Closet, and I look forward to volunteering again.
---
Community Caring - Jacqueline W
I run a non-profit here in Ellsworth, Maine. We focus on making sure that all people have access to their necessities such as clothing and food. Subaru contacted me about coming into a volunteer. Their goal was the same as mine, to make a difference in our community. And that, they have. Every Monday and Wednesday through the month of April, at least 6 employees showed up (each day) to help me refill the store with clothing so that everyone had access to things to wear. They filled the outside food racks so that 24 hours a day, someone who is hungry would have access to food. They filled the blanket racks so that those who are living outside or without heat would have a way to stay warm. During the time they spent in our store they did all of the rearranging and heavy lifting, making it possible for us to expand our store to help more people. The owner of Subaru showed up and worked along with his staff. It's easy to say that when he left our store, he didn't stop thinking of us because each day he showed up with great ideas for moving forward. Ideas that would help us pay our $2000-a-month bill, ideas for being more productive, and for connecting with other area businesses. He went above and beyond because I truly believe he is someone who wants to make a difference which gave us a common goal. On the first day, he came to volunteer, he asked me what it was I needed most for him. I told him we needed a vehicle for transporting items in and out of the store and that it was a long term goal of ours. He reached out to other businessmen in the area and before a month had gone by, we had a vehicle which was perfect for what we needed. I never expected to have this goal met and am so very grateful to them for making it happen. During their time volunteering, a lady came to us. A single mom with an autistic child who had a birthday next week had grown out of all of his clothing. One of the Subaru employees heard her talking and went on a mission to find the boy some gifts for his birthday. He found him a ball and bat, a remote control car, and some other toys. And even though we offered the woman any clothes she needed for free, this gentleman insisted on paying for her items. She was so happy with his kindness and compassion. Many of the Subaru employees have returned on their own time or messaged me to say that they were inspired by volunteering and plan on returning, but the truth is the work that they accomplished in one day would have taken me a month alone. They made it possible for a small non-profit to make huge amounts of progress and because of them, on the days they came in, we were able to help 1800 people from our community and more. 1800 people who had access to the things they needed because a group of people cared enough to make a difference, stepped in when they were needed most and I for one am extremely grateful.
---
Turkeys to employees and Bar Harbor Food Pantry - Dawn C
Mark and I gave out over 750 pounds of turkey to employees today as a token of our thanks to them; they're the best! Several of our employees wanted to donate their turkeys to the Bar Harbor Food Pantry, which came and picked them up just in time to get them ready for Thanksgiving. We've worked with the food pantry for years, and it's always nice when we get to load them up! (And getting a turkey token of appreciation from a conscientious owner isn't bad either!)
---
Test Drives for the Cure - JoAnn B
Stanley Subaru...you are AMAZING! This is the tenth year of Test Drives for the Cure. For every test drive taken in October, Stanley Subaru donated $10 to Northern Light Maine Coast Hospital's cancer screening and treatment. Since the program started in 2009, Stanley Subaru has donated $17,500 to Northern Light Maine Coast's Breast Health Clinic and Mary Dow Center. This year, Stanley Subaru celebrated another great year with the staff by sharing pink-wrapped Hershey's Kisses. There was one Kiss for every dollar raised in 2018, which meant 20 pounds of chocolate to share among the screening, treatment, and front desk volunteer teams.
---
Helping the Mary Dow Center for Cancer Care - Kelley C
When Mark said he wanted to donate care kits (including 80 nice, soft blankets!) to the patients at the Mary Dow Center for Cancer Care, it was a surprise but not a shock. Mark and Stanley Subaru have been wonderful champions of Maine Coast Memorial Hospital. From years of Test Drives for the Cure to the Chefs' Gala to the Schoodic Scramble to unexpected donations like these, they do a lot to care for our patients and our team. It's great to have businesses like that supporting such a great mission. Thank you, Stanley Subaru!
---
Ellsworth businesses team up to help teachers - Jim N
On May 25, the teachers and principals of Ellsworth Elementary-Middle School met in the cafeteria for a special thank you from Stanley Subaru and Hannaford. Stanley Subaru owner Mark Politte and Hannaford manager Debbie Murray personally delivered 59 Hannaford gift cards to the teachers at Ellsworth Elementary-Middle School. "We know a lot of teachers, and we know that many of them dip into their own pocket to help keep students fed, particularly at the end of the year like this," said Mark Politte, referencing the fact that 1 in 4 Maine children are food insecure. According to No Kid Hungry, most teachers spend hundreds of dollars of their own money on food for their students over the course of a year. "We're invested in helping these teachers continue to do the good work they do and letting them know that they're not alone." Thank you Stanley Subaru and Hannaford! There are write ups, pictures, and video of the delivery at https://www.ellsworthamerican.com/maine-news/education-news/stanley-subaru-hannaford-team-up-to-fight-hunger/ http://star977.com/2018/05/25/local-news-may-25-2018/ and http://www.wabi.tv/content/news/Ellsworth-businesses-team-up-to-thank-teachers--484200891.html We really can't say enough how appreciated this is, and how meaningful it is that our teachers were recognized with such a generous surprise.
---
Ellsworth businesses team up to help teachers - Jim N
On May 25, the teachers and principals of Ellsworth Elementary-Middle School met in the cafeteria for a special thank you from Stanley Subaru and Hannaford. Stanley Subaru owner Mark Politte and Hannaford manager Debbie Murray personally delivered 59 Hannaford gift cards to the teachers at Ellsworth Elementary-Middle School. "We know a lot of teachers, and we know that many of them dip into their own pocket to help keep students fed, particularly at the end of the year like this," said Mark Politte, referencing the fact that 1 in 4 Maine children are food insecure. According to No Kid Hungry, most teachers spend hundreds of dollars of their own money on food for their students over the course of a year. "We're invested in helping these teachers continue to do the good work they do and letting them know that they're not alone." Thank you Stanley Subaru and Hannaford! There are write-ups, pictures, and video of the delivery at https://www.ellsworthamerican.com/maine-news/education-news/stanley-subaru-hannaford-team-up-to-fight-hunger/ http://star977.com/2018/05/25/local-news-may-25-2018/ and http://www.wabi.tv/content/news/Ellsworth-businesses-team-up-to-thank-teachers--484200891.html We really can't say enough how appreciated this is, and how meaningful it is that our teachers were recognized with such a generous surprise.
---
Cabin Fever Dance - Jamie O
Stanley Subaru has been a friend and supporter of our non-profit animal welfare organization for years. They have donated water and auction items for various fundraisers, done work on our shelter van and partnered with us on special adoption events.Most recently, Stanley Subaru provided the SPCA with use of their fabulous photo booth at our annual Cabin Fever Dance at the Atlantic Oceanside in Bar Harbor. Everyone loves to grab a prop or two and mug for the camera. People pay $5 to have their photo taken and Stanley donates all of the proceeds to the SPCA and the animals in our care. Stanley Subaru truly believes in giving back to the community. The SPCA is lucky to be one of Stanley's community partners and we look forward to continuing this relationship for years to come.
---
Test Drives for the Cure - JoAnn B
Since 1986, the Breast Clinic at Maine Coast Memorial Hospital has been offering high quality breast care service by caring professionals in a relaxed setting. The Breast Clinic is part of Downeast Maine's largest and most comprehensive healthcare facility, ensuring our patients excellence in care. We work hard to ensure the health of our community, which is why we offer things like mammogram scholarships. We want everyone to be the healthiest they can be. Stanley Subaru's Test Drives for the Cure program rallies the community in a really meaningful way to make that happen. This year their total donations from the eight years of Test Drives for the Cure topped $15,000 making it possible for patients who otherwise couldn't afford screening to get checked when they need to. Stanley Subaru does a lot to make cancer treatment and prevention available to everyone who needs it, and it is greatly appreciated. Thank you, Stanley Subaru!
---
Thank You from all of us at Downeast Horizons! - Ashley J
On behalf of Downeast Horizons, I would like to thank you again for attending our Annual Dinner to provide us your photo booth! Spencer did a great job! This is the 2nd year in a row you have done this for us and everyone loved it! We appreciate your commitment to helping children and adults with developmental disabilities participate in the community in which they live in ways that satisfy and enrich both the individual and the community. Since its inception in 1974, Downeast Horizons has delivered programs and services designed to maintain and increase an individual's independence and community involvement. It is because of deeply committed supporters like you that Downeast Horizons is able to continue our belief that total community inclusion provides enhanced opportunities, a broader network of personal supports, and meaning to the lives of the people we assist. On behalf of the Board of Directors, our staff, and the individuals we support, thank you!
---
Thank You for the Gift of Warmth and Love - Amy H
Jack Frost, director of philanthropy at Maine Coast Memorial Hospital, MCMH,, and Jayne Wixon RB CRNI, Director of Oncology accepted over 50 blankets and 10 craft kits from Stanley Subaru for the Mary Dow Cancer Center.David Grant, sales consultant, Kyle Townsend, service administrator and Mark Politte, owner, all of Stanley Subaru were there to present the donations to Jack and Jayne, along with Rebekka Farquharson from the Leukemia and Lymphoma Society.The Mary Dow Center has 10,000 patient visits a year, including oncology and other infusion treatment services. Blankets are a great gift for those patients undergoing cancer treatments, offering warmth and comfort during infusion treatments that require patients to remain seated for a period of time.Thank you Stanley Subaru for providing warmth for the patients of MCMH during their battles!
---
Give Your Car Some Love, Support Community Health - Tracey C
Give Your Car Some Love, and Support Community HealthThroughout the month of July, guests of Stanley Subaru's detailing department can support Healthy Acadia's local community health programs and improve quality of life for all by opting to have Stanley Subaru donate to one of three program areas: early childhood development, tobacco prevention and cessation, and anti-hunger/food security work. "This is an incredible example of community partnering to strengthen local community health efforts," said Shoshona Smith, Healthy Acadia's Development Coordinator. "We are very proud and honored to work with Stanley Subaru. Their support will truly make a difference for those impacted by these three program areas." Healthy Acadia, a community health organization serving Hancock and Washington counties, works with over 100 partners to effectively address locally-defined health priorities, including: managing and preventing chronic disease, preventing substance and tobacco use, improving health access, positive social development, building active communities, increasing food security and improving access to healthy foods, and more. As a grant and donation funded organization, Healthy Acadia depends on community support to continue and to grow these critical resources.
---
Stanley to the rescue… baby squirrel edition! - Karen J
Last month, waiting for a routine service on my Crosstrek, I learned that Krystal and Heather had just rescued two baby red squirrels from the parking lot. It was the second day they'd seen them out there, alone, not seeming to know what to do. It was hot, the black parking lot was an oven, and the little babies were baking on it, listless from heat exhaustion. Heather and Krystal brought them in, put them in a box, and gave them water, food (the Cheez-its were a big hit), and some ice to cool the box. They started to revive, though one had an injured leg. There was much oohing and ahhing from staff and customers alike! Emily called the Acadia Wildlife Foundation in Bar Harbor, who said they could take them. I live in Bar Harbor, so I volunteered to drop them off on my way home. The next day I was relieved to hear the babies made it through the night. A week later they were moved to an outside enclosure with other squirrels, and the Foundation said they would be released back into the wild sometime soon. Thanks to the great staff at Stanley for caring about our wildlife, and to the Acadia Wildlife Foundation. You can donate to support their work here: http://www.acadiawildlife.org/Acadia_Wildlife_Foundation/Welcome.html
---
Community Matters at Stanley Subaru - Nick T
Stanley Subaru celebrated their remodel with two big events: a party for all the local businesses and a special preview party for all their guests. They dedicated a quarter of their event space at the dealership to their community partners, featuring displays and representatives from a dozen organizations that focus on everything from local cancer care to arts and culture to animal welfare to healthcare and housing to conservation. Stanley employees took guests on a tour of the facility and made specific stops to talk to us at our tables. I was there for the Grand Theatre at each event, and it was a great chance to talk to people about our programming, promote upcoming events, and give away tickets. Each celebration featured huge groups of people that Stanley went out of their way to introduce to us. It was incredibly heartwarming that Stanley Subaru shared so much of the spotlight with nonprofits and charitable organizations in the area. It really speaks to the character of the people there and their commitment to their community. Thank you, Stanley Subaru!
---
24th Annual Chefs' Gala - Patricia P
On April 29, 2017 the greater Ellsworth area community came together to raise funds for new, three-dimensional mammographic imaging technology for the Breast Clinic at Maine Coast Memorial Hospital. "I am thrilled to announce that with the success of the twenty-fourth annual Chefs' Gala event we have met our goal for funding the purchase of this equipment," says Jack Frost, Director of Philanthropy at the hospital. "It's really amazing to see our community – both businesses and private citizens – come together to support healthcare in Hancock County. Every year we have seen more people get involved, from volunteering to ensure that all of the attendees have a great evening to sponsorships that help provide the decorations and entertainment." Over 400 guests toasted the successful fundraiser and danced the night away at this year's event, raising over $60,000. Stanley Subaru's support for the event included the photo booth sponsorship which provided guests fun keepsakes for the evening.
---
Cabin Fever Dance to support the SPCA - Diana d
Stanley Subaru was one of the sponsors of the SPCA of Hancock County's Cabin Fever Dance, a winter fundraiser of food, fun, and dancing to raise money to support operations at the no-kill shelter in Down East Maine. It was great fun with live music and a lively dance floor. We want to thank everyone who came out and made the evening such a success.
---
Donations directly to cancer patient care - Patricia P
In October, Stanley Subaru ran a program where they would donate $10 to Maine Coast Memorial Hospital patients' cancer care for every test drive taken. All told, Stanley Subaru donated over $2000 to get local cancer patients the care they need this year! Stanley Subaru's owner, Mark Politte, even came to the hospital to hand out crab-shaped cookies to the staff and patients of the Mary Dow Center and Breast Health Clinic! "I can't tell you how much people appreciate the Center being here, and we couldn't do it without community support like this," said Chris Osterbauer (the man making the surprised face in the photo). Stanley Subaru's support of the hospital and the Mary Dow Center is much appreciated.
---
Thank you from Down East Hospice Volunteers - Linda G
Dear Mr. Patterson King: I want to thank you personally for the very generous donation of your time and technical talents in support of our 25th Anniversary 10K/5K benefit race. Your many hours of help with Facebook and Pay Pal and more was invaluable. We are lucky, indeed, to have businesses near and far so willing to help us in this effort. The work you did with our two 'tech experts' helped us find new ways to meet expenses and make this important fundraiser a success. It is especially meaningful because our volunteers don't cover Hancock County, although we come close. These efforts are especially important to people with terminal illness and their families in rural areas such as Washington County. As you no doubt are aware, there are fewer agencies, nursing homes and other support systems found here than are found in more densely populated areas. Our volunteers are there to provide free supportive services thanks to the generosity of you and Stanley Subaru. Again, thank you so much for your help. Sincerely, Linda L. Gralenski, Volunteer
---
LUNAFEST raises money for women's healthcare - Abbie S
LUNAFEST, the fundraising and heartwarming film festival dedicated to promoting awareness about women's issues, highlighting women filmmakers, and bringing women and men together in their communities, was hosted by Mabel Wadsworth Women's Health Center's Lunaluvs at the Alamo Theater in Bucksport on April 6. "It's a great event that supports female filmmakers, women's stories and experiences, as well as women in our community. It is one of my favorite events," says Abbie Strout, Mabel Wadsworth's Director of Education and Community Engagement. This year Mabel Wadsworth raised about $3,000 to support programs such as the Gaining Access Project which reduces fees for uninsured clients. Mabel Wadsworth will be able to help people get healthcare who otherwise might have been unable to afford it thanks to the success of LUNAFEST. Stanley Subaru provided their photo booth to give all the participants fun mementos of the festival. The booth was such a hit, Mabel Wadsworth and Stanley Subaru started planning their next event together right away.
---
The Winter Boot Bash is a hit with help from Stanl - Michele M
"Everything we do at "Camp Beech Cliff" is to get people connected with nature, each other and their best selves," says Debra Deal, Camp Beech Cliff Executive Director. The Acadia Winter Festival was a celebration of winter in Acadia National Park and surrounding communities and culminated in Camp Beech Cliff's Winter Boot Bash, a benefit dance to raise funds for camp programs. There were fine appetizers at tasting stations, raffles, and a silent auction for guests to peruse. Everything was donated by area restaurants and businesses. "Business sponsors made it possible for the ice sculptures and bar. Stanley Subaru even brought a photo booth! We are indebted to so many local businesses and guests whose generosity will give kids big smiles and life changing moments at camp." The camp is known for fun, innovative and quality Summer Camp programs that serve over 800 campers each year; their Acadia Leadership Institute team building and leadership programs with Hancock County School students; and year-round recreational community programs for all ages. Stanley Subaru's Spencer Patterson King says, "We are so grateful to be a part of such a supportive and active community. We are really excited about ways, like the photo booth at the Winter Boot Bash, we can help these wonderful organizations share their mission."
---
Stanley Subaru Fills Pantries for Hungry Students - Carol Ann M
Stanley Subaru just completed one of their most successful food drives yet! With the support of Hancock County residents, Stanley Subaru collected over 1000 pounds of food to distribute to children in need in 2015. Stanley Subaru is making efforts to do even better in 2016, having collected several hundred hundred pounds that went to local schools in early February. Stanley Subaru delivered food to Trenton Elementary School February 1st. After Steffanie Rugoski, the school's secretary, made a little room with the help from students like Shane Bonilla, they were able to fit it in the offices for distribution. Rugoski noted the staff support, saying that teachers buy food for the Trenton Elementary pantry program. The next day Stanley Subaru visited Ellsworth High School where with Stanley Subaru's help, the cabinet, shelving, and tables were brimming. Julia Montague has just started this year and she helps to organize the program at Ellsworth High. "Being a part of the food pantry makes me feel like I'm making a difference in the world. Sometimes we feel so small, like nothing we do really makes a positive impact on anyone. Being able to help my peers means so much me, because not only am I helping someone out, I'm helping out those who mean something to me and who I care deeply about."
---
Share the Love adoption event & open house at SPCA - Jamie O
The Share the Love ASCPA and Subaru Adoption Event and Open House at the SPCA of Hancock County took place on Saturday, December 12, 2015. The event was funded with a grant from the ASPCA. Stanley Subaru coordinated the necessities drive and filled a 2016 hyper blue Crosstrek with food, blankets, and cleaning supplies to restock the SPCA of Hancock County shelves. Subaru Ambassador Linda Eaton put together a wonderful basket (with a few bonus items from Stanley Subaru) to help with the raffle. Over $3000 was raised for the shelter, over a hundred pounds of supplies were donated, and 12 dogs and cats were adopted!
---
Test Drives for the Cure - Patricia P
For every test drive in October, Stanley Subaru donated $10 to mammogram scholarships. Stanley Subaru had hundreds of test drives in 2015. Thanks to their guests, they donated over $10,000 over the last six years of Test Drives for the Cure that go directly to patient care! To celebrate a record number of test drives for the program, April Bellatty and her team at Maine Coast Memorial Hospital made some delicious, antioxidant and nutrient-rich blueberry smoothies for Stanley Subaru and the hospital to celebrate. For the cancer care teams that couldn't break away, Mark even delivered!
---
End Student Hunger - Brett L
Stanley Subaru partnered with WABI TV5 and Maine Education Association to help provide food to young Mainers in need. In one week, Stanley Subaru collected enough food to completely fill a 2015 Crosstrek. Stanley Subaru delivered several hundreds of pounds of food to local schools, like Ellsworth High School and Hancock Grammar School.
---
Maine Coast Memorial Hospital Chef's Gala - Diana d
Saturday, June 13th, Stanley Subaru hosted SPCA of Hancock County for an adoption event! Dogs and Subaru go paw in hand, and we were so excited to support the great work SPCA of Hancock County is doing. SPCA Director Diana de los Santos even waived adoption fees on approved adoption applications for this event! SPCA of Hancock County staff and volunteers were at Stanley Subaru to answer questions and help you find the right animal for your home. Stanley Subaru Communications Coordinator Spencer Patterson King, a former professional dog trainer, offered free mini dog training lessons to all new pet parents.
---
LUNAFEST - Kate W
Stanley Subaru sponsored LUNAFEST in Bucksport on April 25th benefited the Mabel Wadsworth Women's Health Center in Maine, the the only private, not-for-profit, free-standing feminist health center in Maine and one of fewer than 20 in the United States. LUNAFEST is a traveling film festival of award-winning short films by, for and about women. The program of eight films- filled with stories of reflection, hope and humor, will travel to over 150 cities and screen in front of 25,000 people. Each year, various organizations bring LUNAFESTs to their communities and raise funds for their local non-profits as well as our main beneficiary - Breast Cancer Fund. Stanley Subaru is committed to improving the lives of everyone in the community, and was proud to be a major sponsor of the event to support women's health care!
---
Fill a Crosstrek for Hancock County Food Drive - Marjorie P
Saturday, February 28th to Monday, March 30th, Stanley Subaru collected food for the Hancock County Food Drive. Guests were encouraged to drop off a can of food and guess how many cans it takes to fill a 2015 Crosstrek. Lorena King, who brings her vehicle in for service, donated, and guessed closest without going over. She won a free vehicle cleaning! Her efforts, the efforts of the many members of the Stanley Subaru team, and the efforts of all Stanley Subaru's guests helped make this year's food drive the most successful effort with 13,900 food items donated and $12,789 dollars raised for 12 local food banks.
---