The 2023 Subaru Love Promise Customer and Community Commitment Award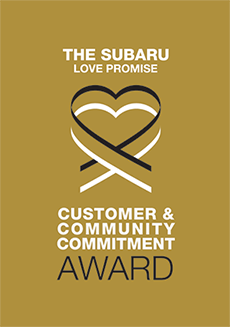 We've been nationally recognized for our dedication to our customers, our community, and the Subaru Love Promise.
We're honored to receive the 2023 Subaru Love Promise Customer and Community Commitment Award. This award nationally recognizes elite Subaru retailers who provide an exceptional customer experience at every interaction with Subaru. These retailers have also demonstrated an outstanding commitment to supporting passions and causes in their local communities in important areas such as the environment, community, health, education, and pets.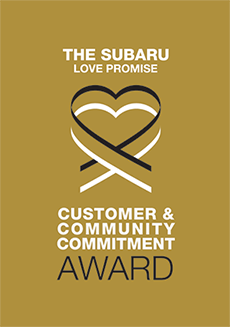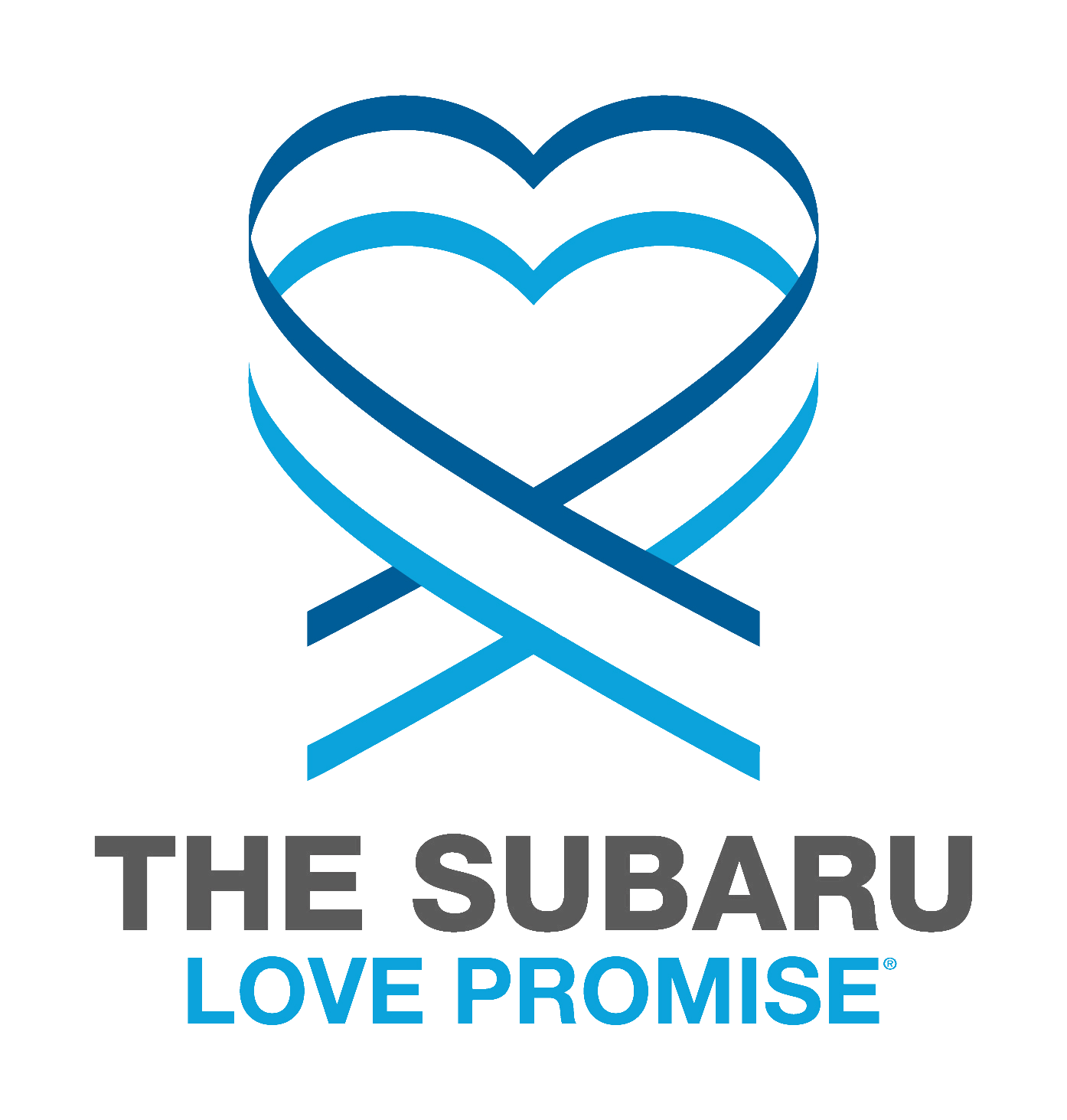 What is the Subaru Love Promise?
Subaru and our retailers believe in making the world a better place and the Subaru Love Promise is our vision of respecting all people. This is our commitment to show love and respect to our customers and to work to make a positive impact in the world.
How is Stanley Subaru dedicated locally to the Love Promise?
What is love? Love is taking care of and supporting the communities we live and work in. Love is contributing to the people and places that make living in this community worthwhile. Love is lending a helping hand to non-profit organizations, schools, hospitals, and our neighbors in need. Stanley Subaru has made it part of our mission statement to contribute and support the communities that support us. The Subaru Love Promise is about neighbors helping neighbors, sharing the love throughout our communities, and following through on our commitment to support the people who support us. Stanley Subaru promises to continue and expand our efforts within Eastern Maine and continue to surprise and delight our guests. We make this promise to our community, our employees, and to you--our loyal guests. Thank you.
SPCA of Hancock County, ARK animal shelter
Acadia National Park, Friends of Acadia, Ellsworth Garden Club
Teacher Appreciation Month, George Stevens Academy, Blue Hill Consolidated School, Ellsworth High School
The Grand Auditorium, Community Closet, Emmaus Center Homeless Shelter, Stonington Opera House Arts, Ellsworth Noontime Rotary, Bar Harbor Food Panty
Maine Coast Memorial Hospital, Hospice of Hancock County
Love Promise Stories from Stanley Subaru
Subaru and Stanley Subaru believe in making a positive impact on the communities in which we live and work. We uphold that belief through our Love Promise Community Commitment. Every month, we select inspiring stories from customers and partners from around our area who strive to support our collective commitment and feature them here
Subaru Love Story from Eastern Area Agency on Aging: Furry Friends Food Bank - Sabrina C
Dear Stanley Subaru Team, We want to thank you from the bottom of our hearts for partnering with us during this year's Subaru Share the Love Event with a Pet Food Drive. It's because of partnerships with businesses like yours, that we are able to fulfill our mission to provide older adults, caregivers and adults with disabilities in Hancock, Penobscot, Piscataquis and Washington counties in Maine with the information and access to resources they need to be healthy, engaged and supported in their communities. Our Furry Friends Food Bank (FFFB) started in 2008 after we noticed that our Meals on Wheels Recipients were feeding their pets the meals meant for them. Older adults should never have to sacrifice their own nutritional needs to feed their pets. Pets are so key to older adults and combat things like social isolation, depression and grief. We take special pride in preserving the special bond between older adults and their pets. FFFB serves almost 400 consumers, distributing roughly 13,000 lbs of pet food monthly across our four Counties. The Stanley Subaru Pet Food Drive made a huge impact on consumers in Hancock County. Thanks to your drive, the Furry Friends Food Bank served 56 consumers a months' worth of pet food, including wet food, dry food, and treats. Several people also received cat litter and toys. 19% of people we serve monthly received the cat food package and 9% of the people we serve monthly received the dog food package. We look forward to future partnership opportunities with you to support FFFB and our other programming in Hancock County. With gratitude, Kelly Adams Nutrition Manager Easter Area Agency on Aging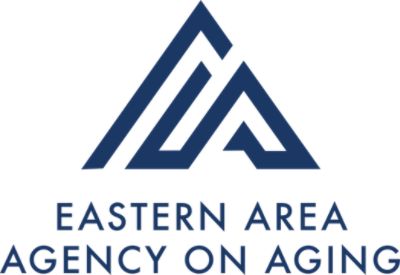 ---
An Underdog Adoption at Stanley Subaru - Nicole R
Through our partnership with Stanley Subaru, we hosted two adoption events during the month of October. We brought five pets to Stanley Subaru for the first event on October 1, 2022 and held the second event at our shelter on October 15, 2022. By the end of the month, the SPCA of Hancock County and Stanley Subaru helped 56 pets find their perfect, loving home. One of those adoptions was a very special puppy named Squeaks. This sweet underdog found herself in the care of the SPCA of Hancock County when she injured her back leg and her family could not afford the needed surgery. At just 16 weeks old, due to the severity of her injury, Squeaks found herself having to relearn life with one less leg. After a few weeks of recovery in a wonderful foster home, Squeaks made her debut as a tripod at our adoption event with Stanley Subaru on October 1st. Within minutes a family, who had been following Squeak's journey, stopped by to meet her and it was love at first sight. The family had just come from the shelter to meet with a dog they had hoped to adopt, but the dog had reacted poorly to the sight of their young daughter. Squeaks, on the other hand, was perfect with the baby, and now has a human baby to grow up alongside with. She found the perfect family that plans to keep up with her unique needs, and we are so grateful they met at Stanley Subaru that day during our adoption event!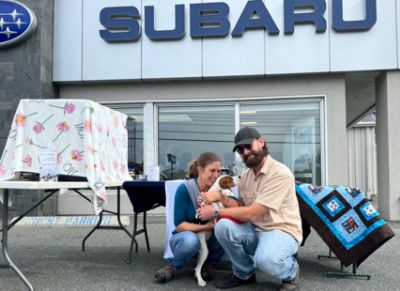 ---
Birdsacre Sanctuary Shares the Subaru Love - Grayson R
Stanley Subaru is the kind of place that makes you happy to live and work here. Their deep, sincere commitment to making our world better by lifting up our local non-profits to enhance their services to our community, to make a real difference by taking action to improve the lives of our children, neighbors, and the animals in our world, fills one with hometown pride, fostering a strong desire to emulate and achieve our best for others, too. When Stanley Subaru selected Birdsacre as a recipient of their Share the love campaign, it was a game changer; like we had just won the jackpot. "How can we help you fulfill your mission?... Dream... Dream Big." Birdsacre is a one-of-a-kind place found nowhere else, but our multi-faceted services preserving our hometown history, maintaining 200 acres with serene hiking trails, and caring for the lives of over 20 non releasable, educational, avian ambassadors who inspire school kids and visitors requires a lot. Our vision often exceeds our donation box. Stanley Subaru's support and strategic encouragement gifted us the opportunity to reimagine the Sanctuary and make vital improvements to the intimate relationship between meeting our ambassador hawks and owls enhancing the privacy of their homes to increase raptor welfare. Happy Raptors make happy visiting children. Teaching respect for wildlife and comfy raptor welfare grants children and adults a way to interact - with owl manners being as calm and quiet as owls - that elicits hawk and owl approval. Happy raptors are then ready to exhibit their magnificence before happy children. The crossroads of experience and comfort is more space. On the bird end: our ambassador housing is aging, constantly in need of maintenance, and can benefit in specific locations from a series of systematic expansions and enclosure upgrades to greatly improve the overall housing infrastructure with enhanced, naturalistic habitats. These refinements will increase our birds' happiness, while fostering better display spaces where kids can experience an enhanced personal visit and gain important, key take-aways to help wildlife. While refining the enclosures, removal of future potentially dangerous trees will protect our birds and visitors. And, on the people end: expanding our limited parking area, currently near the birds, with a more natural, shaded parking/ reception space (perfect for dog walkers in the heat of the summer) along the length of the exit drive, will help isolate car sounds from enclosures, while offering a new display space to better inform and direct visitors seeking a serene hike, a 19th century house tour, or joining a raptor program. When finally completed, Birdsacre will, through Stanley Subaru's overwhelming generosity and commitment to little places like our Sanctuary, that enrich and distinguish our hometown, will create a more refined, pleasurable experience for our bird ambassadors and visitors. When Stanley Subaru supports a local non profit, it enhances quality of life and hometown pride for everyone. Thank you for caring and helping us chase our dreams! Sincerely, Grayson Richmond Manager at Birdsacre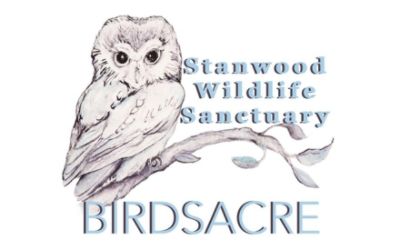 ---
A grateful school - Carrie K
Due to the pandemic, it has been a long couple of years for anyone working in a school setting. In school, we have faced a significant increase in workload, the pressure to learn new technology, a decline in student mental health, increased behavioral problems, and high absentee and truancy rates. Out of school, we have faced the politicization of public education and witnessed the deterioration of public trust, despite the fact that the pandemic revealed how critical public education is as an institution in our community. All of these things have made going to school just plain harder than ever before for most teachers. Many people who previously planned to teach for years to come have considered a career change or retirement. On Friday, March 18, 2022, the Ellsworth School District had a professional development day for faculty and staff. Imagine our surprise when it became known that Stanley Subaru had bought pizza for the whole district. In our line of work, it is not common to receive anything beyond our paychecks. A pizza lunch would be a point of excitement in normal times; after the last couple of years it means so much more to know that someone sees us and appreciates our work. Thank you so much for spending the time and money to boost our spirits during such hard times.
---
Solar-powered and community-minded - Ken C
As a member of the Maine Climate Council, the group created by Maine's Legislature and the Governor's Office to guide the state in achieving its aggressive climate goals, I am delighted to have played a small part in Stanley Subaru's move to 100% renewable energy. Climate change is already impacting Maine's quality of life, and leadership by local businesses, towns, and the state is essential in addressing it. So I was pleased to advise Mark as he began planning to convert Stanley Subaru to 100% solar energy, and I was doubly pleased to join Stanley Subaru's celebration officially switching over to solar power. Stanley Subaru's climate leadership is exceptional. Though it is a small, local business, it is the first fully solar automobile dealership in the state. And it chose another small, Maine business, SolarLogix, to design and install its solar system. Most importantly, Stanley Subaru made its solar system highly visible: the four million people that visit Acadia National Park each year will now see Stanley Subaru's 343-panel solar array as they depart Mount Desert Island – powering not only this business but our renewable energy future.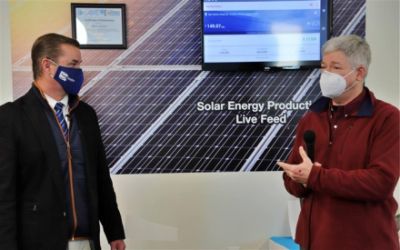 ---
It's hot, hot, hot - Nick T
Imagine the joy and excitement experienced in a community as it gathers for the 41st Annual Christmas Parade, at a very difficult time, and then add hot cocoa on a cold morning. That's a great day. This is the 3rd time the Stanley Subaru & Grand have partnered to form a Hot Cocoa brigade. The Grand is a performing arts venue and the home of the Stanley Subaru Stage and in typical years we have a bunch of actors and volunteers ready to man the team. This year we only had two and the Stanley Subaru team stepped up in a big way - including pouring and serving. They provided the trailer, vehicle, scooter team, most of the cocoa team and all the supplies. The Grand decorated the float and helped serve. I don't know how much, but the three giant containers were empty by the end and a lot of people were very happy. Even the "It's hot, hot, hot" theme made people smile. The Grand and Stanley Subaru have a great relationship because of Mark Politte and his team. We and so many other organizations are stronger for that relationship and so is the community.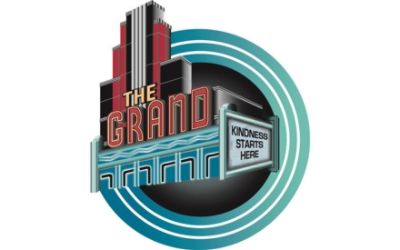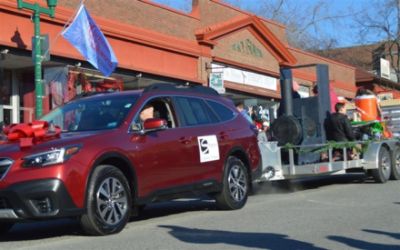 ---
Together We Make the Community Warmer - Stacey H
At the Emmaus Homeless Shelter we provide families in Hancock County with meals during the holidays. Stanley Subaru generously donated blankets and socks to our shelter. The holidays can be a cold time both physically and emotionally for a lot of people but because of our partnership with Stanley Subaru with our food baskets we are giving families socks and blankets to make their holidays warmer. It is wonderful know that that we are making their lives all that more comfortable in more ways than one!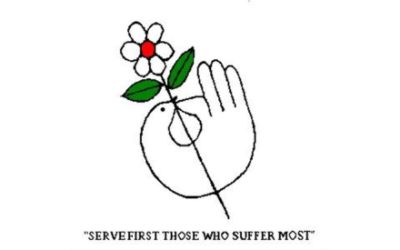 ---
Families First Community Center - Maureen B
Families First Community Center, received a generous donation of socks and blankets, from Stanley Subaru. FFCC seeks to break the cycle of homelessness by equipping families with skills to gain self-sufficiency. We offer residential and outreach programs to the greater Hancock County Community. The socks and blankets will be distributed to those in need, with hope that comfort can be found in the generosity of others. FFCC envisions a community where all members stand on solid ground with the skills and the confidence they need to achiever their dreams
---
Comfort Blankets Donated By Stanley Subaru - Michael R
We are sending out an enormous shoutout of thanks to Stanley Subaru for these beautiful deep blue, soft as can be, Sherpa blankets that they have donated the Beth C. Wright Cancer Center to distribute to our patients who are undergoing cancer treatment. In addition to the blankets, they dropped off a basket filled with pink Hershey Kisses for the staff! These soft, cozy, warm and comforting blankets can wrap you with love, hope and healing that is given to you freely as your body heals with love that is brought to you by the community that surrounds you. These blankets are available to help comfort patients during one of the most difficult time of their lives. If you would like to experience that comfort and warmth, or you know someone that would, please call the Center and we will certainly get one to you.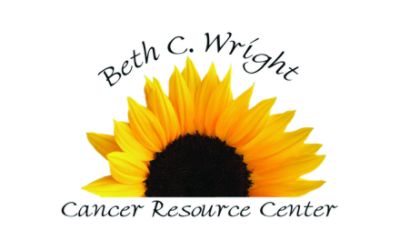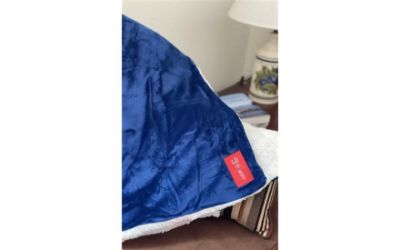 ---
Blankets for our Patients - Kelley C
We appreciate the continued kindness and generosity that Stanley Subaru has shown to us at Northern Light Cancer Care in the Mary Dow Center. Earlier this month, a crew from Stanley Subaru delivered warm, cozy blankets for our patients to use. We are passionate about caring for our patients and having a community partner who feels the same is AWESOME. Thank you so much, for ALL you do for our community. *And our staff certainly enjoys the chocolate!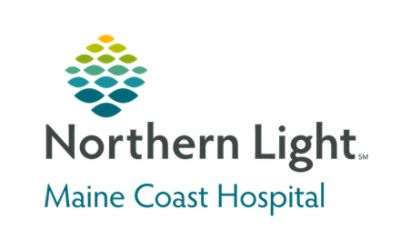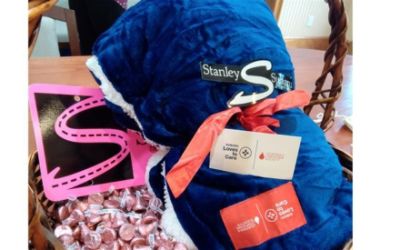 ---