The 2021 Subaru Love Promise Customer and Community Commitment Award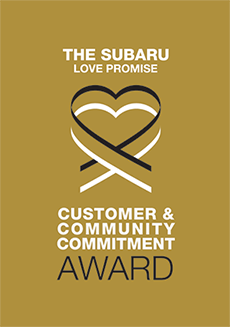 We've been nationally recognized for our dedication to our customers, our community, and the Subaru Love Promise.
We're honored to receive the 2021 Subaru Love Promise Customer and Community Commitment Award. This award nationally recognizes elite Subaru retailers who provide an exceptional customer experience at every interaction with Subaru. These retailers have also demonstrated an outstanding commitment to supporting passions and causes in their local communities in important areas such as the environment, community, health, education, and pets.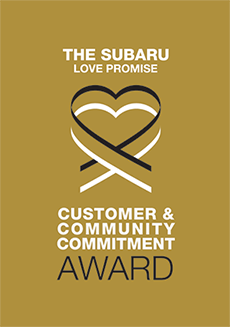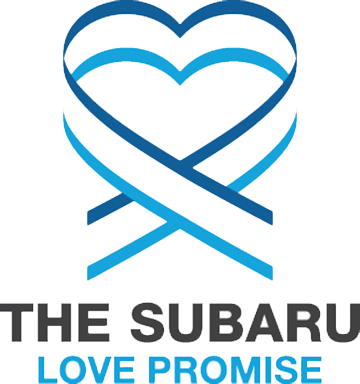 What is the Subaru Love Promise?
Subaru and our retailers believe in making the world a better place and the Subaru Love Promise is our vision of respecting all people. This is our commitment to show love and respect to our customers and to work to make a positive impact in the world.
How is Stanley Subaru dedicated locally to the Love Promise?
What is love? Love is taking care of and supporting the communities we live and work in. Love is contributing to the people and places that make living in this community worthwhile. Love is lending a helping hand to non-profit organizations, schools, hospitals, and our neighbors in need. Stanley Subaru has made it part of our mission statement to contribute and support the communities that support us. The Subaru Love Promise is about neighbors helping neighbors, sharing the love throughout our communities, and following through on our commitment to support the people who support us. Stanley Subaru promises to continue and expand our efforts within Eastern Maine and continue to surprise and delight our guests. We make this promise to our community, our employees, and to you--our loyal guests. Thank you.
SPCA of Hancock County, ARK animal shelter
Acadia National Park, Friends of Acadia, Ellsworth Garden Club
Teacher Appreciation Month, George Stevens Academy, Blue Hill Consolidated School, Ellsworth High School
The Grand Auditorium, Community Closet, Emmaus Center Homeless Shelter, Stonington Opera House Arts, Ellsworth Noontime Rotary, Bar Harbor Food Panty
Maine Coast Memorial Hospital, Hospice of Hancock County
Love Promise Stories from Stanley Subaru
Subaru and Stanley Subaru believe in making a positive impact on the communities in which we live and work. We uphold that belief through our Love Promise Community Commitment. Every month, we select inspiring stories from customers and partners from around our area who strive to support our collective commitment and feature them here
Comfort Blankets Donated By Stanley Subaru - Michael R
We are sending out an enormous shoutout of thanks to Stanley Subaru for these beautiful deep blue, soft as can be, Sherpa blankets that they have donated the Beth C. Wright Cancer Center to distribute to our patients who are undergoing cancer treatment. In addition to the blankets, they dropped off a basket filled with pink Hershey Kisses for the staff! These soft, cozy, warm and comforting blankets can wrap you with love, hope and healing that is given to you freely as your body heals with love that is brought to you by the community that surrounds you. These blankets are available to help comfort patients during one of the most difficult time of their lives. If you would like to experience that comfort and warmth, or you know someone that would, please call the Center and we will certainly get one to you.
---
Blankets for our Patients - Kelley C
We appreciate the continued kindness and generosity that Stanley Subaru has shown to us at Northern Light Cancer Care in the Mary Dow Center. Earlier this month, a crew from Stanley Subaru delivered warm, cozy blankets for our patients to use. We are passionate about caring for our patients and having a community partner who feels the same is AWESOME. Thank you so much, for ALL you do for our community. *And our staff certainly enjoys the chocolate!
---
Floral Heart Project - Loretta L
The Floral Heart Project was started by my sister in law, Kristina Libby, to help provide healing, compassion and sympathy for those impacted by Covid-19. When the pandemic first hit NYC, where Kristina now resides but a Maine native, she was heartbroken that thousands of people were dying without funerals and their families were left without the traditional grieving practices. So, she started to make floral hearts to visualize her grief and to allow others to access their own grief and to have a moment of comfort. She started to place these hearts in different locations from Times Square to The Brooklyn Bridge and they were well received. People came to mourn their lost loved ones and to find the closure they needed. She chose flowers as they are a traditional gift during loss and hearts because they are a simple way to showcase love and support. On March 1, 2021 because of The Floral Heart Project, 100+ hearts were laid across the United States. When Samantha and Mark Politte of Stanley Subaru were first introduced to the idea of sponsoring a floral heart, they didn't hesitate for a second and fully embraced the project! With their generous support, along with The Bud Connection, a beautiful heart was laid in Knowlton Park in Ellsworth Maine and another at The Town Green in Blue Hill Maine to honor lives lost from COVID-19. I was truly honored to be a part of this event.
---
Maine Coast Hospital grateful for Stanley Subaru - joann b
Stanley Subaru has been sponsoring an annual fund-raiser called "Test Drives for the Cure" since 2009 for the benefit of Women's health at Northern Light Maine Coast Hospital in Ellsworth, Maine. Every October during Breast Cancer Awareness Month, Stanley Subaru holds this fund-raiser to support a healthy, thriving community. They've raised over $23,000 for preventative breast health care since the program began. Stanley guests can take a test drive, no purchase necessary, and Stanley donates $10 in their name to mammography scholarships at Northern Light Maine Coast Hospital. This year, due to COVID, every vehicle was sanitized inside and out between every use. Also, Stanley's guests were able to donate $5 and receive a pink ribbon magnet that says, "Driven for a cure," and Stanley matched it with another $5. The $10 total donation was donated to local mammography at the Breast Clinic at Northern Light Maine Coast Hospital in Ellsworth. From all of us at Northern Light Maine Coast Hospital, thank you to all of the folks at Stanley Subaru who have been and continue to be so very generous and supportive towards women's health in our community. Stanley Subaru is truly a leader in helping everyone in our community get the life-saving care they need.
---
Mulan Met Her Soulmate at Stanley Subaru - Kaitlyn M
While kittens are usually easy to place in homes, Mulan had a couple struggles: for one, her brothers were very fluffy and more outgoing than her, so they stole most of the attention. Mulan's litter came from a feral mother, and so she wasn't sure about humans even though she was young when she came to the shelter. She would often hide behind her siblings or bed when someone came to meet her. So we used the opportunity we had at the Stanley Subaru adoption events in October to educate the public on shy cats while also sharing cute photos staff managed to take of Mulan when she relaxed. It didn't take long after that for her to get adopted by a wonderful woman who has since kept us updated with progress reports on Mulan, now named Lovey because she's just that sweet!
---
Ross - Making Wishlist Magic Happen! - Kaitlyn M
Placing kittens in homes isn't particularly difficult at a shelter - everyone loves cute baby animals, after all. What is difficult is managing the demand for kittens, especially cute and friendly ones like Ross. Ross came from a big litter, so we found the best way to line up perfect homes for them was to create educational materials and flyers about "wish list applications" at the adoption events Stanley Subaru hosted in October. This has helped the community learn more about the adoption process, and as a result, many of our kittens have gone to good homes without having to grow up in the shelter, which is so much healthier for their immune systems and their emotional welfare.
---
Neptune & Gandalf - Everyone Needs a Friend! - Kaitlyn M
Most people who want a cat want the ones that come right up and play or love on them. Gandalf and Neptune are both young boys, and the interesting thing is they actually didn't know each other until they met at the shelter community room. Neptune was returned to the shelter because he hid so much his owner felt they weren't connecting, whereas Gandalf was found as a stray and had a hard time finding a home because of his unpredictable nature - was he going to love you or smack you, it was like a roulette! Then these boys met and connected in a way no one expected, and soon Neptune was always seen trailing after Gandalf and shelter staff knew we didn't want them to be separated. But they had both been in the shelter for months and were having a hard time being noticed, so how could it work out? We pitched them as a bonded pair anyway and used the opportunities we had at the October Stanley Subaru adoption events to tell people about this amazing pair of cats. And happily, it worked! They were adopted together and now have a family of their own.
---
Gus & Josie - Friends Fur Life - Kaitlyn M
Finding homes for senior cats can be hard enough, never mind when you have bonded ones, but we knew sweet Gus and Josie had to stay together. Big gray Gus is 16 years old but full of spunk and loves his little sister, Josie, and it was clear that tiny black Josie, who is 6 years old, needed to be by her brother to feel safe. Though they lost their original home, they didn't have to lose each other, and so we took pictures of the two together and posted them at our adoption events with Stanley Subaru throughout October. Happily, a wonderful family met them and decided to take them home!
---
Mother Maya & Pups All Find Homes! - Kaitlyn M
Maya came to us with her six newborn puppies and her mom, Josie. While Josie and Maya were sweethearts, neither had received much training in their few years of life, and so although the puppies were quickly spoken for and lined up for homes, it took a little more work to find suitable homes for Josie and Maya. Maya loves everyone but has a tendency to tear through a place like a wrecking ball and needs extensive training to help her learn house manners, so we made sure to feature this mom of six at our adoption events with Stanley Subaru throughout October in hopes we could reach a new audience that might take the chance on her. Fortunately for Maya, her new mom saw her and fell in love, and the two couldn't be happier together!
---
Rocky Found a Forever Home! - Kaitlyn M
Rocky is almost 7 years old and an extremely sweet couch potato - when he's with humans. However, he has such a high prey drive that he can't coexist with other animals and needs to not only be an only dog but kept away from neighboring pets. He was in the shelter for months throughout 2020, and that was his third long stint here. Finding him a perfect home was difficult, so when we lined up adoption events with Stanley Subaru throughout the month of October, we made sure to feature Rocky prominently and be honest about his needs. Fortunately, this helped spread the word about him to a new audience, and the perfect match showed up to meet him and take him home! Thank you so much, Stanley Subaru, for helping Rocky find his forever home!
---