What is a CVT transmission? | How does Subaru Lineartronic CVT work? | What Subaru Vehicles have CVT?
Lineartronic® CVT
According to Subaru's Drive Magazine, "the CVT concept and technology are not new: CVT was conceptualized by Leonardo Da Vinci in the late 15th century, and it was available on the Subaru Justy from the late 1980s through the mid 1990s, the first car with a CVT for the U.S. automobile market."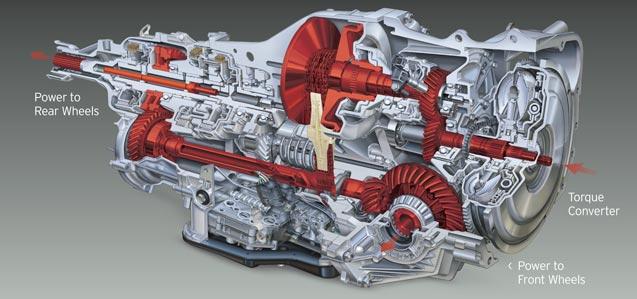 "A continuously variable transmission functions as if it had an infinite number of gear ratios. Its changes from ratio to ratio are step-less, contributing to the powertrain's smooth operation. Among its benefits, a CVT wastes less power in transmitting engine torque to the drive wheels. Its efficiencies result in the excellent fuel economy ratings of the non-turbocharged 2010 Subaru Legacy and Outback models equipped with CVT."
Subaru vehicles now equipped with CVT include the 2013 Outback, 2013 Legacy, 2013 Impreza, 2013 Crosstrek and the soon to be debuted 2014 Forester.
HOW CVT WORKS:
CVT stands for Continuously Variable Transmission, and this innovative technology has been engineered to work seamlessly with the SUBARU BOXER® engine and Symmetrical All-Wheel Drive to help reduce fuel consumption. The stepless gear ratio allows the engine to run within its optimal power range for improved fuel economy, while its lightweight, compact design helps the vehicle stay as agile as it can be.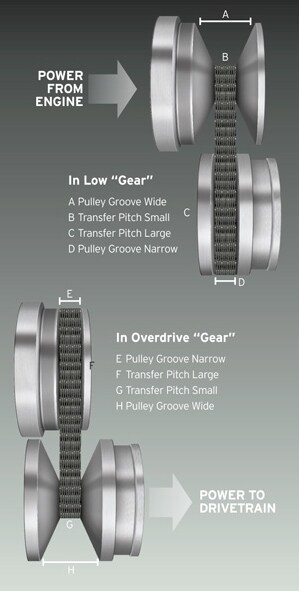 In Automatic Mode, it adjusts instantly to match your acceleration, eliminating the need to shift and preserving the vehicle's momentum often lost with conventional automatic transmissions. In 6-Speed Manual Mode, paddle shifters are mounted for fingertip control, giving you the power to select the gear ratio that best suits your driving situation. The result is a sharper and sportier driving experience.
To see Lineartronic CVT in action, check out this video courtesy of Subaru of America: http://www.subaru.com/engineering/transmission.html
In a previous blog post, we profiled the 2012 Subaru Impreza and highlighted the CVT:
The Lineartronic CVT is an enhanced, second-generation unit that, unlike a traditional automatic transmission, delivers an infinite and seamless variability in available drive ratios without any noticeable shifting. It helps provide maximum engine performance and fuel efficiency, and with optional six-speed manual mode with steering wheel paddleshifters on Premium, Sport and Limited models, the Lineartronic CVT also maintains a level of sportiness.
A new electric power steering system improves fuel efficiency by an additional two percent, and lower rolling resistance tires reduce fuel economy, robbing road friction. And to help improve driver fuel efficiency, a new ECO gauge helps indicate the most fuel-efficient driving behavior. Thanks to new chassis components like liquid hydraulic engine mounts for enhanced vibration damping, pillow ball bushings and strengthened, double-wishbone suspension, the 2012 Impreza has ride qualities, stability and handling responsiveness that outperform all class competitors.
"We've noticed the 2012 Subaru Impreza with CVT gets better gas mileage than its manual transmission counterpart," notes Dan Tibbetts, sales consultant at Stanley Subaru. He also says some people have reported upwards of 50 mpg with their Impreza under very conservative driving conditions. The 2013 Impreza retains this CVT technology and impressive fuel economy.
To learn more about Transmission Types for Subaru vehicles, check out "Mission: Understand Transmission" or to learn more about CVT technology, check out this article from Subaru's Drive Magazine. To learn how to properly care for your Subaru's transmission, check out this article.
Sources:
1. Subaru Drive Magazine's article "Subaru Lineartronic CVT" http://drive2.subaru.com/Sum09/Sum09_whatmakes.htm from the Summer 2009 issue.
2. Subaru.com: Transmission/Subaru Technology: http://www.subaru.com/engineering/transmission.html