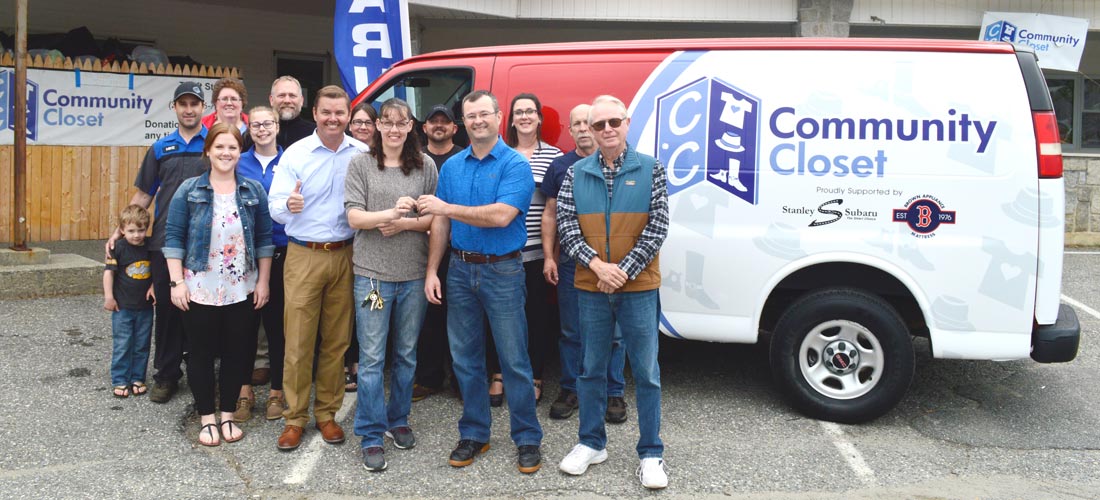 ?
photo (left to right): Riley Hibbits, Mike Hibbits, Addie Gray, Dawn Conary, Jordan Stanwood, Dan Tibbetts, Mark Politte, Stacy Turcotte, Jackie Wycoff, Jeremy Greatorex, Jason Brown, Sophia Miller, Mark Rogerson, Cubby Brown
Brown Appliance and Mattress and Stanley Subaru gave Community Closet a van.
It may not seem like much, but a van is a very big deal for the nonprofit. Before the ink was dry on the paperwork making everything official, Community Closet proprietor Jackie Wycoff was already telling Jason Brown and Mark Politte how having the van would free up storage space to allow for faster sorting of donations. That, in turn, would lead to more clothes and goods available for customers and people in need.
A van also means greater ability to work with other nonprofits. Community Closet regularly drops off hundreds of cubic feet worth of supplies in Bangor and picks up hundreds more donated from other nonprofits. Previously, Jackie relied on her father to share the use of his truck to make the trips with a trailer. While he was happy to do so whenever possible, there were times his schedule conflicted with his desire to help as when he recently underwent surgery. A van that can tow a trailer means that the trips can be made as needed by volunteers. It relieves the pressure on any individual volunteer and allows for a greater diversity of inventory to be available to Community Closet customers.
The van came from the Brown Appliance and Mattress fleet. "It was a very easy decision to make," said Jason Brown, one of the family owners of Brown Appliance and Mattress. "It was absolutely our pleasure to donate that van and to do our part to help Jackie do the great work she does. She does awesome things for the community, and that's one tool we could give her to help make life a little easier."
The van came out of the Brown fleet with a few miles on it, and that's where Stanley Subaru owner Mark Politte stepped in. "We were delighted to hear Jason's plan to donate the van to Community Closet. I have such incredible respect for Jackie and the work she does for the people in our area that I made sure we could help." Stanley Subaru gave the van a top-quality tune up, servicing and cleaning the vehicle top to bottom, inside and out. Stanley Subaru will also provide future services to the van so that it can continue to help for years to come. Mark and Jason even paid to have the van wrapped with the Community Closet logo. "I wanted to make sure as many people know about the wonderful resource available to them right here in town, and having their information on the van is a mobile billboard that lets people know about the great work that's going on here."
"We are so excited about the new van and the opportunities it will provide for us," enthused Jackie, with her characteristic energy. "It's just something we would never have been able to purchase ourselves. Now we have so many possibilities to make our store better, to be more efficient, and to explore more ways we can make a difference. This is such a huge gift to the store, and we are beyond grateful."
Community Closet is located at 25 Eastward Lane, suite #12 in Ellsworth and is open Mondays and Wednesdays 9-2 and Thursdays 4-7. June 20th to September 1st, their hours will be Mondays and Wednesdays 10-3 and Thursdays 4-7.