What is Subaru X-Mode? | How Does Subaru X-Mode Work? | Why Would A Driver Use Subaru X-Mode?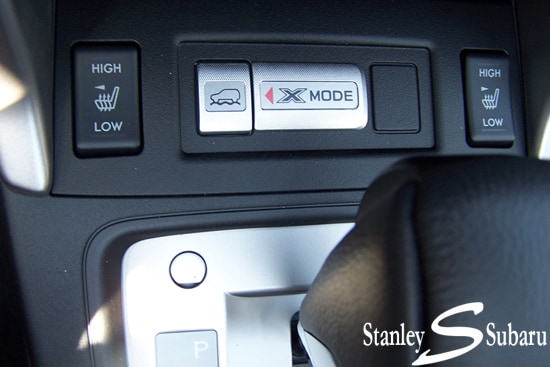 First we will explain what X-Mode is, then get into the details of how it works, and finally answer our most frequently asked question about X-Mode.
2014 &
2015 Subaru Forester
models equipped with the
Lineartronic CVT
feature Enhanced Active All Wheel Drive. Select Foresters also feature X-Mode. Both of these new safety and performance features help improve vehicle control on low-friction surfaces.
X-Mode is a standard feature on the
2014 Subaru Forester 2.5i Limited, 2.0 XT Premium and all Touring Models.
When X-Mode is activated, electronic control of the engine, transmission, All Wheel Drive system, brakes,
Vehicle Dynamics Control System
, and other critical components is optimized. X-Mode helps reduce potential wheel slip on slippery surfaces, climbing steep inclines, and navigating rough roads. X-Mode helps increase driving performance, confidence, and control.
How X-Mode Works:
X-Mode is turned on by pushing the X-Mode switch on the center console. An indicator light on the instrument panel illuminates to indicate X-Mode activation. When X-Mode is operational, the Multifunction Display provides the status of steering angle, driving wheel status, activation of the ABS System if necessary and the operation of the
Vehicle Dynamics Control System
.
While X-Mode can be activated at speeds below 25 mph, it becomes operational at 18 mph and below. When vehicle speed exceeds 18 mph X-Mode stops functioning. Hill Descent Control is operational up to 12 mph. Hill Descent Control helps maintain vehicle starting speed for safer maneuvering when traveling down a steep incline. By keeping the vehicle from increasing speed when heading downhill, Hill Descent Control helps maintain better control.
Subaru X-Mode operates under three principles: 1.) To increase the potential of the electronically-controlled Limited Slip Differential (LSD) that lies at the heart of the Vehicle Dynamics Control System to deliver performance rivaling that of the mechanical LSD; 2.) To apply the SI-Drive technology to the engine, transmission, and other components for optimum control on slippery roads; and 3.) To give drivers peace of mind by assuring them that added driving assistance is just the flick of a switch away.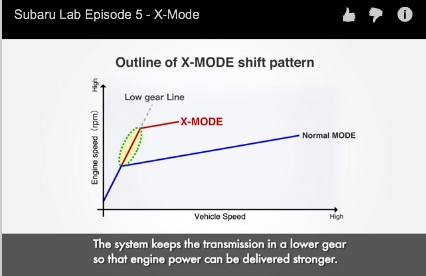 X-Mode reduces accelerator input for increased control of engine output, helping control wheelspin for better traction when you are driving on slippery surfaces and rough roads. When you activate X-Mode, wheelspin is reduced and grip enhanced by controlling the engine, transmission, AWD system, brakes, VDC, and other critical components.
Pressing the X-Mode switch activates 5 different forms of control to limit slipping tires:
1. Engine Throttle
In normal driving, when the driver steps on the accelerator pedal, the engine throttle opens up, however X-Mode is designed so that the throttle doesn't open too quickly. If the driver presses the accelerator further, the engine then delivers torque faster. X-Mode employs special settings that deliver torque gradually at first, but then makes it come on stronger.
2. Transmission
X-Mode keeps transmission in a lower gear so that engine power can be delivered stronger. This shifting pattern, while X-Mode is ON, lets the driver make the most of the power that is available.
3. All Wheel Drive
AWD control is improved by raising the front/rear coupling force when X-Mode is ON, which helps the driver drive power more evenly between the four wheels. This maximizes the traction of the tires.
4. Vehicle Dynamics Control System
The VDC system, when X-Mode is ON, includes a specially-tuned "Enhanced LSD Control". For example, if the left and right wheels are behaving differently, the system applies brakes only to wheels that are slipping. Compared to ordinary operation, the brakes are applied a lot earlier when X-Mode is ON, resulting in LSD control activating much faster.
5. Hill Descent Control
At low speeds (under 12 mph) Hill Descent Control helps maintain vehicle starting speed for safer maneuvering--the car itself manages the throttle and breaking allowing the driver to fully concentrate on steering.
Subaru Global produced a video explaining how X-Mode works and why a driver would want to use it. The video shows what happens to the vehicle and specifically the wheels when X-Mode is ON versus OFF, plus a very thorough explanation of X-Mode's functionality. You can see the video here: http://youtu.be/6d0dCotncVs
Most Frequently Asked Question About Subaru X-Mode:
Dear Stanley Subaru,
"Can X-Mode be simulated by an experienced driver by (a) lower gear; (b) slower step on throttle; and (c) avoid stamping on brake? In other words, does X-Mode provide any functionality that is not accessible by an experienced driver?"
--Curious Driver Dan
Dear Curious Driver Dan,
The purpose of X-Mode is to give the driver the ability to focus on maneuvering safely and let the Subaru control the throttle, torque, and other electronically-controlled components of the Vehicle Dynamics Control System. When X-Mode is ON, it keeps the transmission in a lower gear, lower than the D(rive) and L(ow) options available to the driver. If only we could reach under the hood and control the torque and direct the power ourselves to slipping wheels while driving down the road...
A Subaru equipped with the Active All Wheel Drive System with X-Mode can respond more quickly to slippery conditions, such as driving on snow covered roads, allowing the driver to operate the Subaru with more confidence. Previous generation Active AWD responded primarily to input from wheel speed sensors. The Enhanced Active All Wheel Drive System adds input from the VDC system including:
1. Steering wheel angle
2. Yaw rate
3. Throttle Application.
Enhanced All Wheel Drive with X-Mode provides the Subaru with improved traction and handling especially when driving on low-friction surfaces such as wet or snow-covered roads. It also helps make the Subaru respond more quickly to changes in road conditions. This helps you keep the vehicle in control in challenging driving conditions.
If you want to learn more about X-Mode, Enhanced Active All Wheel Drive, or Hill Descent Control, check out our X-Mode page, refer to the Owner's Manual section about X-Mode, or if you have further questions, send them along to us at: internet@stanleysubaru.com or post to the comments section below.
Check out our Current Inventory of Subaru Vehicles equipped with X-Mode here.