What is a Twin-Scroll Turbocharger? | The New 2014 Subaru Forester 2.0XT has Twin Scroll Turbocharger| How Does Twin Scroll Turbo Work?
As the newly redesigned 2014 Subaru Forester makes its debut, along with the Forester 2.5i model comes its turbocharged twin: The 2014 Subaru Forester 2.0XT. This Forester 2.0XT runs a 2.0 liter 4 cylinder twin-scroll turbocharged SUBARU BOXER engine.
Two Turbocharged models available: The 2.0XT Premium and 2.0XT Touring

When you have a lot to do in a day, some extra horsepower comes in handy. At least that's your story. Just behind the new sport-designed front end is a 250-hp turbocharged SUBARU BOXER engine. The Lineartronic CVT transmission gives you 6- and 8-speed manual modes, plus paddle shifters. Tires are wrapped around 18-inch alloy wheels. Everything you loved about the Forester, turbocharged.
Ok, so we have a twin-scroll turbocharged Subaru Forester. But what exactly does that mean? It means you have the power of two turbocharged engines contained in one SUBARU BOXER engine! We let the tech experts at Popular Science explain how this fuel-sipping turbo technology works:


How It Works: Two-In-One Turbocharger


Carmakers are responding to high oil prices and strict fuel-economy standards by replacing large gasoline engines with smaller, more-efficient ones. And frequently, they are using turbochargers to make the switch without sacrificing power. The problems with turbochargers have typically been high cost, mechanical complexity, and a delay in power delivery called "turbo lag." Using two turbochargers reduces turbo lag but further increases complexity and cost. Twin-scroll turbochargers solve all of these problems. Long found only in pricey sports cars, twin-scroll turbos, which mimic the effect of a pair of turbochargers, are now appearing in less-exotic cars, such as the 2012 BMW 3-series. The new TwinPower four-cylinder produces just as much power as the six-cylinder it replaces while using 15 percent less fuel. Nearly every other carmaker is working on similar downsized, turbocharged engines. [Note: the numbers in the image below correspond to the list of captions that follows.]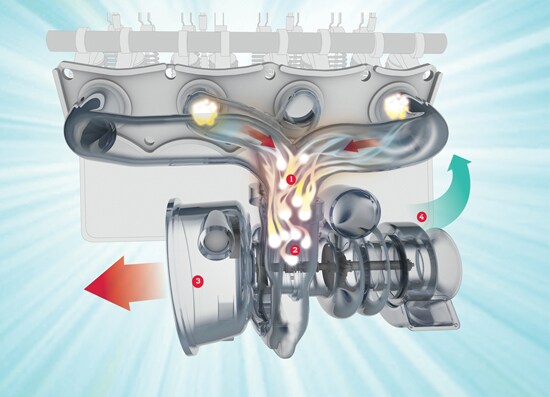 1.
CAPTURE
Instead of escaping through the exhaust pipe, hot gases produced during combustion flow to the turbocharger. The cylinders inside an internal combustion engine fire in sequence (not all at once), so exhaust exits the combustion chamber in irregular pulses. Conventional single-scroll turbochargers route those irregular pulses of exhaust into the turbine in a way that causes them to collide and interfere with one another, reducing the strength of the flow. In contrast, a twin-scroll turbocharger gathers exhaust from pairs of cylinders in alternating sequence.
2.
SPIN
The exhaust strikes the turbine blades, spinning them at up to 150,000 rpm. The alternating pulses of exhaust help eliminate turbo lag.
3.
VENT
Having served their purpose, exhaust gases flow through an outlet to the catalytic converter, where they are scrubbed of?carbon monoxide, nitrous oxides and other pollutants before exiting through the tailpipe.
4.
COMPRESS
Meanwhile, the turbine powers an air compressor, which gathers cold, clean air from a vent and compresses it to 30 percent above atmospheric pressure, or nearly 19 pounds per square inch. Dense, oxygen-rich air flows to the combustion chamber. The additional oxygen makes it possible for the engine to burn gasoline more completely, generating more performance from a smaller engine. As a result, the TwinPower engine generates 30 percent more power than a non-turbocharged one of the same size.
TWINPOWER TURBO 4-CYLINDER
Displacement: 2.0 Liters
Power: 240-250 horsepower
Torque: 260 lb. ft.
Fuel Economy: 36 mpg*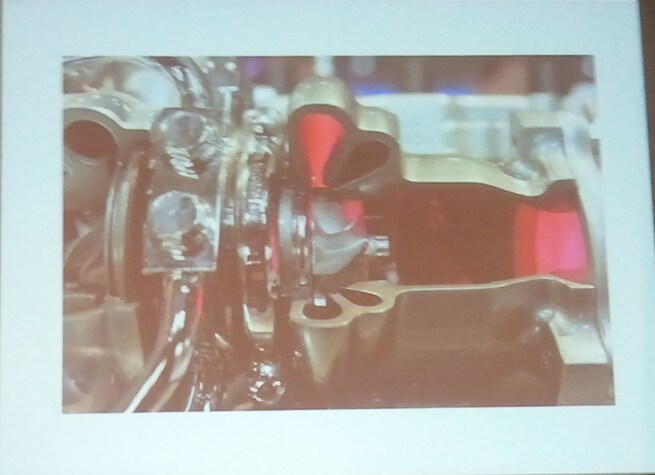 The image above is a cutaway view of a twin-scroll turbocharger. It's like having two turbochargers in one, but better.

Stanley Subaru note:
The All New 2014 Subaru Forester 2.0XT is a Turbocharged Forester
using this twin scroll technology. 2014 Forester Turbos are expected to land at Stanley Subaru soon!
Source: "How it Works: Two-In-One Turbocharger" article posted on
PopSci
. Article URL:
http://www.popsci.com/content/two-one-turbocharger
> Story by Lawrence Ulrich and Illustration by Paul Wootton for PopSci. 03/11/2013.
*This fuel estimate and the figures for horsepower and torque are from the PopSci article and are estimates. Fuel economy varies based on road conditions, personal driving style, and whether your driving is mostly city or highway. Although using a 83 octane unleaded fuel will not harm your turbocharged engine, for best performance, use Premium 93 Octane Unleaded fuel in your turbocharged Subaru Forester. See Stanley Subaru Sales Department for more information on the 2014 Forester. See our Service Department to learn more about fuel economy, turbocharged Subaru vehicles, and engine performance.