Wondering when more Subaru Crosstreks or Imprezas will be available? | Looking to get behind the wheel of a hard-to-come-by Subaru?
Trying to get behind the wheel of the latest Subaru Impreza or Crosstrek is becoming a harder goal to reach these days. With high demand and limited production runs, Subaru enthusiasts are gobbling up Subarus faster than dealers can keep them in stock. Most of the Subaru vehicles that arrive on the transport trucks are already sold before they get on the ground.
But let us not wallow in our sadness for much longer! If Subaru has its way, US production will increase from 130,000 units to 300,000 units by 2016. Jonathan Ramsey of AutoBlog.com first reported this information and his words are below.
"Ask Subaru about the difficult car market and it is likely to ask in response, "What difficult car market?" The little Japanese brand has its XV sitting on top of sales charts in (one small corner of) Europe, the BRZ is still allergic to sitting on dealer lots, the company has raised its financial forecast due to strong US sales and being in the top five of Consumer Reports' reliability ratings is the sprinkles on the cupcake. Just-Auto now reports that Subie is considering increasing US production by 30,000 units as soon as 2014, and another 100,000 units as soon as 2016. That's good news for Subaru's Lafayette, Indiana plant, which builds the Legacy, Outback and Tribeca.
The increase in production has yet to be approved, but the company's been talking about it for a few months now, especially after it wasn't able to build a factory in China. The Chinese government denied Subaru parent company Fuji Heavy Industries (FHI) the right to build a factory in the People's Republic since Toyota, an FHI shareholder, already has two plants there. That ended up helping Subaru in the short term since it wasn't affected by the anti-Japanese sentiment over the issue of ownership of some islands in the South China Sea. In addition to the bumped-up production numbers, the president of FHI said he expects Subaru to sell more than 350,000 cars in the US next year; doing so would be an improvement of almost 30 percent over 2011."
Although 2016 is a few years off, there are a few ways you can get behind the wheel of your dream Subaru faster than your average bear:
1. Guests at Stanley Subaru can pre-order New Subaru Vehicles. Just specify the model, trim level, color preference, options, and, if desired, accessories to be installed on the vehicle. For more information about pre-ordering a Subaru, please give us a call Toll Free 1-800-439-8989 or email [email protected]
2. When reviewing our website, guests have a complete look at our inventory, and it will even show what vehicles are scheduled to be delivered to Stanley Subaru, labeled "This vehicle is in transit". With the ability to see what is coming, guests can arrange a test drive when the vehicle they desire arrives at the dealership.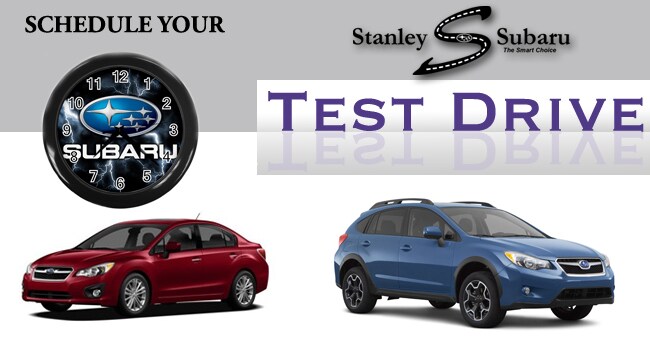 3. Why not drive a currently available Subaru model until your pre-ordered Subaru arrives? Subaru vehicles hold their residual value higher than most other vehicles. In fact, ALG awarded Subaru with the 2012 Residual Value Award. Enjoy the safety of Subaru Symmetrical All Wheel Drive while you wait for that Crosstrek, Impreza, or 2014 Forester to arrive. You could trade-in the low mileage Subaru for the pre-ordered one and save yourself some money in the process! Take a look at what we have available in our current inventory or contact us for more information.
Source: "Subaru to Raise Production From 130,000 Units to 300,000 by 2016" written by Jonathon Ramsey on AutoBlog.com, November 27th, 2012.