What does WRX mean? What does STi stand for?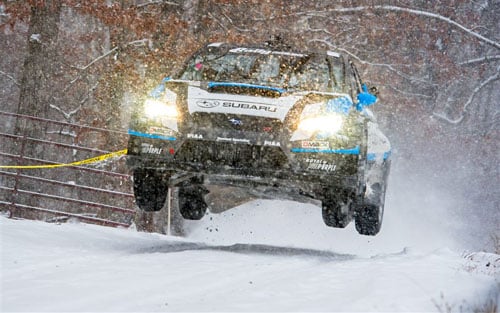 The Subaru WRX performs. The rally powerhouse added to its scores of first place finishes with the
top spot at the Rally in the 100-Acre Wood.
David Higgins and Craig Drew dominated at this weekend's snowy Rally in the 100 Acre Wood. With ice covering 50% of the roads yesterday and steady snow all day with 6+" of accumulation, this was a true snow event. The 2015 Subaru WRX STI handled the treacherous conditions with ease and performed flawlessly all weekend.
"These were some of the toughest conditions I've ever driven on," explained Higgins at the podium. "There was a mix of everything. At a snow rally you at least know you are dealing with ice or snow, but here we also had gravel, frozen gravel, icy gravel and everything in between to go with the snow. Then when it began to snow late in the event the fresh snow hid the icy parts from view. Our new 2015 Subaru WRX STI was perfect again and Craig Drew did a fantastic job, this was a huge challenge."
So what does WRX mean?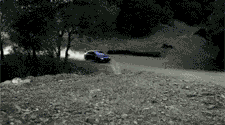 Subaru World Rally eXperimental (some locations: World Rally Cross). The WRX was developed to showcase Subaru's technical prowess, including showing off the symmetrical all-wheel drive which gives an incredibly responsive feel. Subaru basically modified an Impreza, giving it a turbocharged engine with the boosted horsepower and torque. Within five years of being rolled out, the WRX had won three World Rally Championships.

Subaru won't rest on its laurels, though. Always looking to improve performance and handling, the WRX has been improved with a stiffer body, which improves the action of the suspension. Engineers have even gone so far into performance details as to adjust the direction and angle of suspension springs, to squeeze out every bit of improvement possible. And it's paying off. In the last ten years, Rally Team USA has won seven championships.



What does STi stand for?

Subaru Tecnica international. Basically, Subaru's skunkworks for motorsports. Subaru Tecnica international develops the Subaru racing vehicles, and the WRX's that bear the cherry blossom red STi badge are those with the highest high performance parts.

The WRX STi was introduced in 1994, and at the time was basically made just like the WRX that had some key parts replaced. At the end of 1994, the WRX STi had its own dedicated assembly.

A few key milestones from Subaru WRX STi history, courtesy of Subaru Vintage Garage:

1998 Impreza 22B STi

The Subaru Impreza 22B STI is one of the rarest & most sought after Subarus of all-time. Only 424 of these vehicles were produced & it was designed to commemorate Subaru's 40th Anniversary as well as the third consecutive manufacturers' title for Subaru in the FIA World Rally Championship (WRC).

2004 Impreza WRX STi

In 2004, Subaru enthusiasts received their first taste of the Impreza WRX STI. Since its inception the STI has grown into a performance icon and a legendary rally vehicle. Dominick Infante discusses what makes this car so special.

2015 Subaru WRX STi--In Depth

With its smooth, refined new look, and enhanced performance, it's the ultimate combination of serious performance and no-compromise versatility. The task wasn't easy. The next-generation WRX STI had to set the benchmark for the ultimate everyday supercar. Subaru engineers not only hit the mark, they exceeded it. With a sleek and refined new look, stiffened chassis, reworked suspension, and impressive list of core technologies-305-horsepower turbocharged SUBARU BOXER® engine, Subaru Symmetrical All-Wheel Drive with Driver-Controlled Center Differential, Brembo® brakes, short-throw 6-speed manual transmission and lightweight BBS® wheels-the all-new WRX STI is the best-handling, best-performing STI ever.