The Outback is a great vehicle with a devoted following, but Subaru isn't the only company making wagons, crossovers, or small SUV's. (What you call them depends on who you ask.) Every year there's a new crop of models from other companies to choose from. With any model from any company, there are different trims that come with different features, and it can be tough sometimes to figure out whether or not you're getting a good deal. We want to make that a little easier for you, so we put together a comparison of standard features available on the base models for the Subaru Outback, Audi allroad, Volvo V60, and Ford Edge.

2016 Subaru Outback
Car and Driver likes the Outback: The Outback is a supremely likable vehicle, thanks to its roomy and comfortable interior, huge and usefully shaped 36-cubic-foot cargo hold, and standard all-wheel drive. For more space, the 60/40-split rear seats fold completely flat at the behest of trunk-mounted levers or buttons atop each backrest. Despite its SUV-like plastic exterior trim and enhanced ride height, the Outback drives like the Legacy sedan, with commendably well-controlled body roll, a compliant yet planted ride, and accurate steering.
Outback standard features

Features that let you do
Qualities for comfort and peace of mind

All wheel drive
2700 lbs. of towing capacity
35.5 / 73.3 cubic feet of cargo space
175 horsepower / 174 lb-ft of torque
Roof rails
8.7 ground clearance

Highest IIHS Safety Rating possible
6.2 HD touchscreen with Bluetooth, USB
32/25 mpg
X-Mode
$24,995 MSRP
In a stance that will surprise no one, we love the Outback.
*     *     *     *     *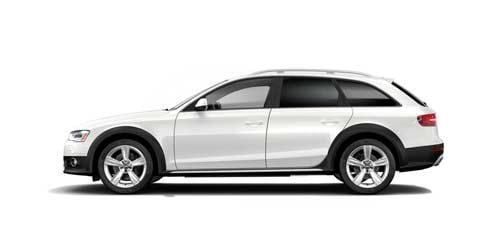 2016 Audi allroad
As a butched-up wagon, the Allroad lacks true off-roadability, but as all-weather transport, it hits the mark. Plus, we're big fans of wagons, and with a maximum of 53 cu ft of cargo space, the Allroad meets the needs of most buyers. A 252-hp turbo 2.0-liter four teams with a seven-speed dual-clutch automatic; all-wheel drive is standard. It's competent on the highway and easily tackles country roads thanks to its Offroad mode. And it's far more fun to drive than a comparably priced crossover. -Car and Driver
allroad standard features

Features that let you do
Qualities for comfort and peace of mind

All wheel drive
27.6 / 50.5 cubic feet of cargo space
220 horsepower / 258 lb-ft of torque
Roof rails
7.1 ground clearance

Leather seats
Bluetooth
28/21 mpg
Panoramic sunroof
Front fog lights
$42,700 MSRP
We love that it features all wheel drive standard, and it has some great features like fog lights and the sunroof (which are options on the Outback). We don't love as much that the Audi allroad wasn't rated by the Insurance Institute for Highway Safety. The allroad seems like a great vehicle; however, dollar for dollar, it's a hard sell with the rest of the options out there. At nearly twice the cost of an Outback 2.5i. With all the money saved between the two, you could upgrade your Outback to your heart's content, get all the features you like in the allroad and a dozen more, and still come way under the Manufacturer Suggested Retail Price of the base allroad. If you're thoroughly committed to an Audi, though, we see the appeal.
*     *     *     *     *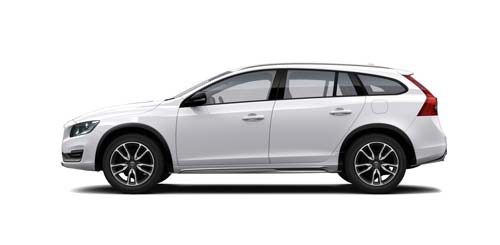 2016 Volvo V60
US News, known for their Rankings and Reviews (their website is rankingsandreviews.com, after all), was mixed on the V60. Testers praise the 2016 Volvo V60's lively engines, stylish interior and many safety features, but they are disappointed in its lack of cargo space or rear-seat legroom...Powering the 2016 Volvo V60 is a turbocharged four-cylinder engine that reviewers report delivers strong acceleration and plenty of power. An eight-speed automatic transmission is standard, and test drivers say it shifts smoothly.
(Car and Driver tested a loaded 2017 V60, and they were quite happy with it. We're trying to figure out bang-for-the-buck from base models, though, so unfortunately, as good as a loaded V60 Polestar is, we want to know how the base model performs.)
V60 standard features

Features that let you do
Qualities for comfort and peace of mind

Front wheel drive
3500 lbs. of towing capacity
43.8 cubic feet of cargo space
240 horsepower / 258 lb-ft of torque
Roof rails
7.1 ground clearance

Highest IIHS Safety Rating possible
Bluetooth
28/20 mpg
Adaptive Cruise Control
$36,150 MSRP
The Volvo V60 has a lot of things we like: great towing, a great IIHS rating, and Adaptive Cruise Control. At an MSRP over $11,000 higher than the Outback which also has those things (plus all wheel drive), it's hard to get as excited about it. Car and Driver did really enjoy the Polestar trim of the V60, but like the allroad, it's possible to pick up all those goodies and more by upgrading your Outback and saving your money.
*     *     *     *     *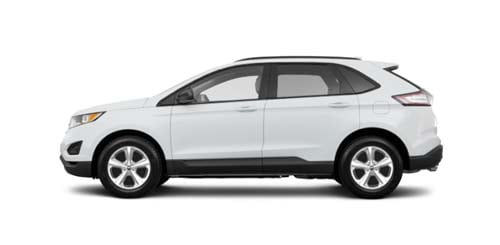 2016 Ford Edge
The Ford Edge did well but not great at US News. The 2016 Ford Edge is in the middle of the pack in our midsize SUV rankings. Our analysis of professional reviews and data shows that critics like the Edge's responsive handling and powerful Sport trim, but they find the base engine's acceleration disappointing. The Edge has plenty of high-tech features. The center stack, however, has a somewhat generic appearance that detracts from the overall feel of the interior.
Edge standard features

Features that let you do
Qualities for comfort and peace of mind

Front wheel drive
1500 lbs. of towing capacity
39.2 / 73.4 cubic feet of cargo space
245 horsepower / 275 lb-ft of torque
7.9 ground clearance

Bluetooth
26/18 mpg
Hill Start Assist
$28,700 MSRP
The Ford Edge was rated good in most IIHS categories, but is not a Top Safety Pick. With front wheel drive, the lowest gas mileage of any of the four vehicles, and all the fun features reserved for the costlier trims, the Edge gives us a little pause. It has solid towing and good ground clearance, which are not to be sneezed at, and it has an MSRP under 30k. However, the Outback has solid towing, more ground clearance, all wheel drive, a better safety rating, and a lower MSRP to boot. If you can find a screaming deal on a Ford Edge, it's definitely a vehicle worth looking at. We sell used Ford vehicles, and it's entirely possible we'll have a better deal on a Ford Edge.
*     *     *     *     *
Summary
We like the Outback. We just do. It comes with the greatest combination standard features, the highest safety rating, and the lowest MSRP. There's a reason that US News rates it their #1 wagon. When it comes down to it, the base model that gives you the most for your dollar is the Outback. And the features that the Outback doesn't have standard that the allroad does, say, like the moon roof / sun roof and fog lights are easy upgrades to get on the Outback and still save yourself over $10,000.
The allroad, V60, and Edge are all pretty well-liked in the higher trims. But the high trim Outbacks are pretty beloved on their own and will continue to come in at a lower cost to you. The Outback can give you all the comfort and fun, and with great towing, the best ground clearance, standard roof rails, and huge amounts of cargo space, it will also let you do the most.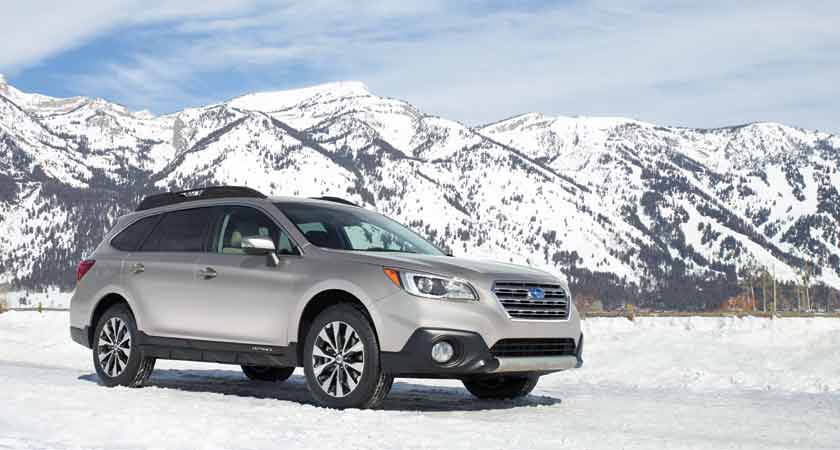 All efforts have been made to assure accurate information; information was pulled from manufacturers' websites.
Safety ratings are based on IIHS data which includes accessories and features that may or may not be available to base models.