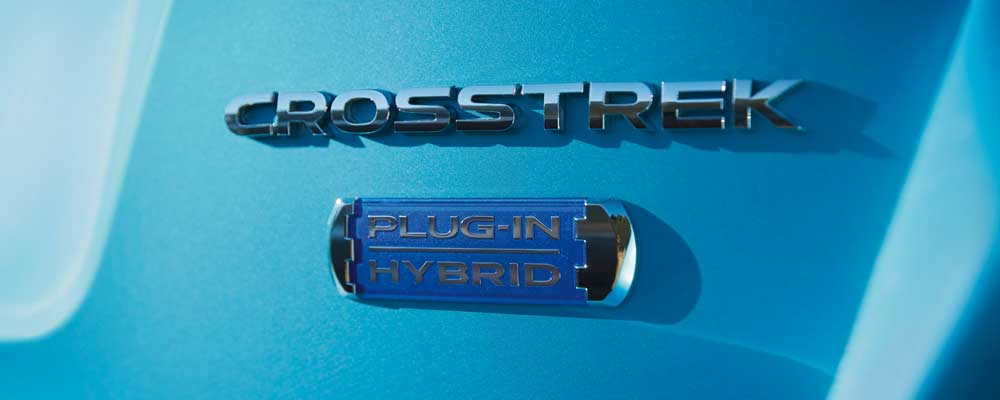 Hybrid Crosstrek
Crosstrek
2.0-liter 4-cylinder SUBARU BOXER engine with direct injection
&
High-torque electric drive brushless permanent magnet motor
2.0-liter 4-cylinder SUBARU BOXER engine with direct injection
148 horsepower
152 horsepower
149 lb-ft torque
145 lb-ft torque
Subaru Symmetric All-Wheel Drive
Subaru Symmetric All-Wheel Drive
1000 lbs towing
1500 lbs towing
35 miles per gallon combined
90 miles per gallon equivalent
29 miles per gallon combined (CVT)
Subaru Starlink multimedia dash display
Subaru Starlink multimedia dash display
Apple CarPlay, Android Auto, USB, and Bluetooth integration
Apple CarPlay, Android Auto, USB, and Bluetooth integration
roof rails
roof rails
X-MODE with Hill Descent Control
X-MODE with Hill Descent Control (CVT)
| Features | 2019 Subaru Crosstrek Hybrid Plug-In (PHEV) | 2018 Mini Cooper S E Countryman ALL4 (PHEV) | 2018 Mitsubishi Outlander PHEV SEL S-AWC | 2018 Toyota RAV4 Limited Hybrid | 2018 Nissan Rogue SL Hybrid |
| --- | --- | --- | --- | --- | --- |
| Standard All-Wheel Drive | yes | yes | yes | yes | X |
| Combined Miles Per Gallon | 35 MPG | 27 MPG | 25 MPG | 32 MPG | 34 MPG |
| Ground Clearance | 8.7 inches | 6.3 inches | 7.3 inches | 7.0 inches | 7.4 inches |
| Combined MPGe | 95 MPGe | 65 MPGe | 74 MPGe | X | X |
| All-Electric Range | 17 miles | 12 miles | 22 miles | X | X |
| Standard Front Crash Prevention Technology | yes | X | X | yes | yes |
| Standard Blind-Spot and Cross-Traffic Monitoring | yes | X | yes | yes | yes |
| Standard Apple CarPlay and Android Auto Integration | yes | X | yes | X | yes |
| Safety and Security Services Available | yes | X | yes | yes | yes |
| Towing Capacity | 1000 lbs | X | 1500 lbs | 1750 lbs | X |
| MSRP | $34,995 | $36,800 | $34,595 | $34,130 | $32,380 |
With the best gas mileage, best MPGe, best ground clearance, and most standard features, the Subaru Crosstrek Hybrid literally stands above the other vehicles in its class.
| | |
| --- | --- |
| | |
MotorTrend
In general, the Subaru Crosstrek is a great little hatch. Not only did we name it an SUV of the Year finalist for 2018, we also liked it enough to add one to our long-term test fleet.
Road Show

Electrifying off-road

The plug-in powertrain doesn't hinder any of the Crosstrek's off-road ability, as this electrified version retains the standard model's generous 8.7 inches of ground clearance. As soon as the pavement ends, I hit the X-Mode switch, which maximizes traction while also incorporating hill-descent control at speeds under 12 mph.

Instant electric torque is remarkably satisfying off-road. Over larger obstacles that call for heavier throttle, the 2.0-liter, flat-four-cylinder gasoline engine will kick in, but it never needs to rev high to deliver torque because the electric motors have that covered all the way from 0 rpm. As a result, the PHEV system makes the Crosstrek Hybrid feel more confident off-road than its conventional counterpart, and you can be more gradual with throttle applications, given the instant EV power.

Car and Driver
Compared against its plug-in playmates, the Outlander PHEV (25 mpg combined, 22 miles of EV range) and the Mini Cooper S E Countryman All4 (27 mpg, 12 miles of EV range), the Crosstrek hybrid appears on target, at least on screen. As opposed to those in most plug-in hybrids, the charging port is installed opposite the fuel door at the rear instead of the front. At 120 volts, Subaru claims a five-hour charge from dead to full; that time drops to about two hours on a 240-volt or Level 2 connection.
Automobile Magazine

The hybrid's sophisticated sorcery yields 35 mpg and 90 mpgE with a combined touted range of 480 miles from its 13.2-gallon tank—that's only a mile shy of a standard Crosstrek. Plus, it can tow up to 1,000 pounds and it still runs on regular 87 octane.

There are three hybrid modes to choose: Normal, Save, and Charge. Normal is the default and automatically switches between EV, EV and gas, or gas only for longer drives. Save mode is best for highway driving, which saves the battery's current charge level to be used for shorter jaunts around town. Charge mode uses the gas engine to help charge the battery when plug-in charging is not available.

AutoBlog
Driving uphill over rocks that were a few inches high, we found the low-end torque offered by the electric motors to be superb. It allowed us to creep over the obstacles without having to carrying a footful of revs that would have caused us to jerk forward and dig into the brakes once free of the rock. Instead, the Crosstrek Hybrid allowed us to tackle it with a steady, controllable creep. The car felt confident on the steep grades. Going downhill, we moved the shifter to B, and let the more aggressive regen keep our speed down. If you need to creep down a particularly nasty, slippery slope, the X-Mode feature includes hill descent control.
Motor1
I cycled through each drive mode multiple times during my drive in and around Santa Barbara, California, noting few changes in how the car behaved switching from one mode to another. The most noticeable difference was slightly reduced acceleration in Save mode. Regardless of which drive mode you select, regenerative braking is there to help at all four corners of the car. After a brief "getting to know you" period, the regen becomes a friend, recouping energy without some of the bad manners of other regenerative brake rigs. A roughly 10-mile-long descent through the Santa Barbara mountains allowed us to regain nearly half of the electric range by the time the car returned to sea level. That's an extreme case, but regen braking really does work to extend your EV driving range.