For $20, you can make sure a Maine foster kid gets on of their very own Comfort Cases.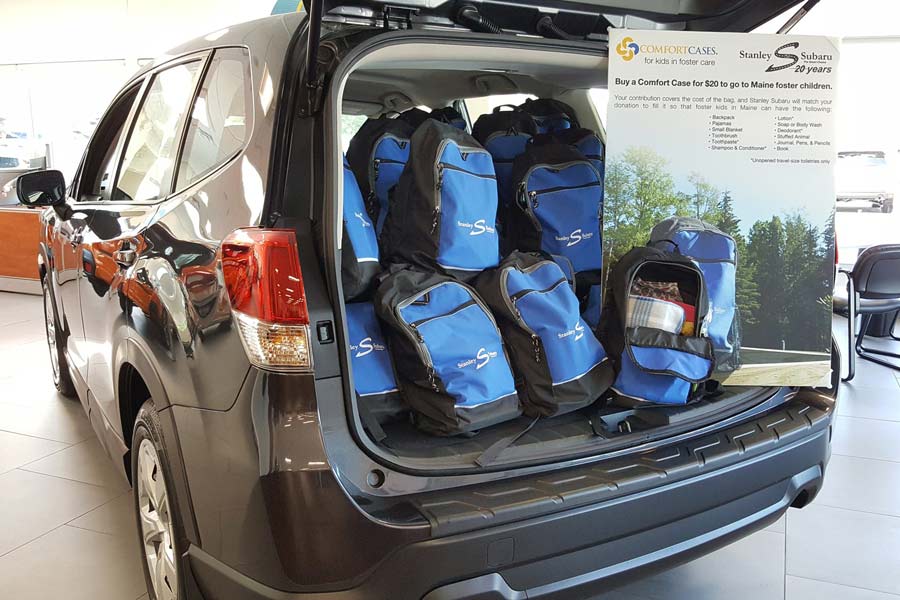 Your twenty dollars buys the case, and Stanley Subaru will match your donation to fill it and get it to a child in need. Our initial goal was 50 cases by the end of the month, but we blew past that with amazing speed thanks to the generous spirit of our guests. We are set for another fifty more, but you can help us crush that number, too!
Stanley Subaru celebrates its 20th anniversary this year, and we feel deeply grateful to do so. There are three core groups we especially want to thank for making it possible -- our employees, our guests, and our community.
Comfort Cases is a group that provides bags and personal items for children in foster care. When they enter foster care, many kids are given merely a trash bag in which to place and carry their personal effects. Comfort Cases works to protect children's dignity by providing a proper bag filled with comfort and essential items to youth in foster care on the journey to find their forever home.
Stanley Subaru teamed up with Lesley Robinson, who has been running Comfort Cases in Maine for several years, to prepare Comfort Cases at our dealership at 22 Bar Harbor Road, Ellsworth. Available in our guest lounge, our guests can donate a Comfort Case by adding the cost to their bill and they can then feel free to place the case in the showroom vehicle, ready to be donated at the end of the month!