Ooh! Ooh! We do!
We will buy your vehicle, even if you don't buy one from us!
Call and talk to us at 207-667-4641. We buy all makes. A good vehicle is a good vehicle, and we have a used car department where we sell all kinds of makes and models. We will pay off your loan and give you the leftover cash. We'll even give you a ride home!

What is "Current Market Value" and how do you determine it?
Current Market Value is the actual wholesale value of the vehicle—the amount the top bidder at an auction would pay for it. After you select which Stanley Subaru vehicle you would want to own, we ask you some questions about your vehicle. Then we inspect your vehicle's mechanical and cosmetic condition, optional equipment, color, service history, resale potential, and other factors.
How do you ensure the Current Market Value is accurate?
Depending on the situation, we use a combination of the following:
We consult dealer-only, subscription-based auction databases.
We consult the bidding at internet auctions where we can buy vehicles similar to yours.
We refer to our prior experiences retailing similar vehicles to yours, in this area.
We call other dealers and wholesalers who specialize in certain vehicles and therefore will pay top dollar.
Why might the Current Market Value I'm told differ from values I found on consumer websites sometimes?
With consumer pricing websites, you get a ballpark. At their worst, these sites (even really reputable ones from great companies) can give an air of authority to values that are not based on real numbers where we are. Actually, great companies lend a lot of authority to these numbers because they're great companies. Consumer sites use algorithms to depreciate the original price of the car from when it was new. There can be a big difference between a depreciation prediction and Current Market Value.
Most people are (rightly) concerned when our estimated Current Market Value is lower than what they expected. The flip side, though, is that sometimes the estimated value depreciates more, and we can offer more than you might have expected. It really depends on the vehicle, condition, and how it fits into what people want to buy.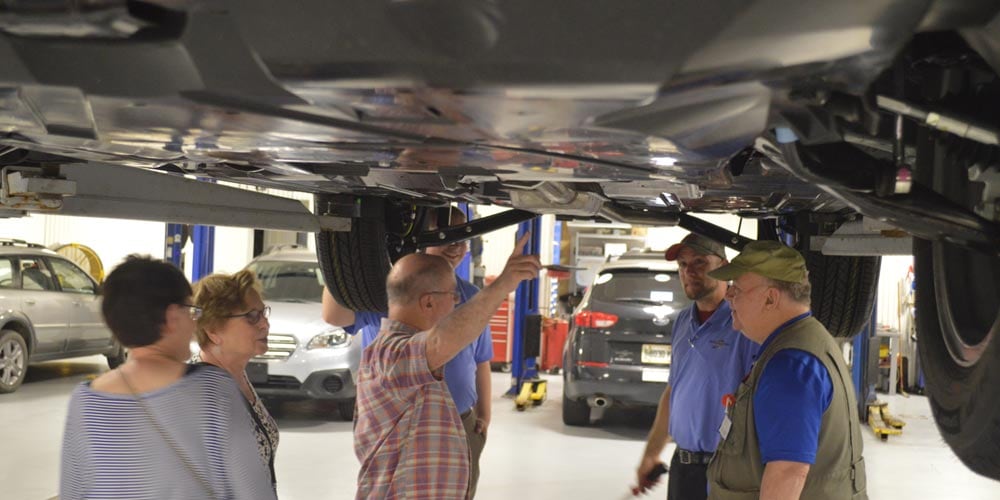 Do consumer websites really mess up the predicted value?
Sometimes. It's like any algorithm. It does its best, but algorithms don't have in-person appraisals.
To test this for yourself, add 200,000 miles to the mileage of your trade. The actual value of your vehicle will drop to almost zero. Which makes sense. How much would you want to pay for a vehicle with 200,000-plus miles on it? But algorithms on these sites typically deduct only a couple thousand.
Other errors occur on vehicles with terrible repair records. We hate to pick on them, but Land Rovers have a pretty notably poor reputation for reliability. A lot of algorithms don't take into account how that reputation affects people's desire to get a used one.
Other errors occur when the condition is rated improperly. Most consumers tend to see their used vehicles in a much more flattering light than they will be seen by the ultimate purchaser. You should like your car! But there are also sometimes things that you don't think to check as someone just driving it and maintaining it. Since we want to fix everything to tip-top shape before we sell it, we have to factor in the cost of those repairs into the price we offer in trade.
Again, the flip side is that sometimes algorithms will really underestimate the value of a car. We've had 30-year old cars sell within two days of a trade in. And Subaru vehicles hold their value like nothing else. We've lost count of how many times we've had 10-plus year old Subarus sell for what other makes go for after only a couple years. Maine winters really make people appreciate that Symmetrical all-wheel drive.
Why is there such a big difference between trade in value and retail value?
Depending on the vehicle, this difference is usually $3,000 to $4,000. That sounds like a big margin. But after you deduct reconditioning expenses (they average almost $2,000 per car), advertising expenses (hey, you found us somehow, right?), facility expenses (you think your home mortgage is expensive, imagine eleven acres of prime commercial real estate), personnel expenses (somebody's gotta put the work in), that three or four thousand goes pretty fast.
We want to provide the kind of guest experience we expect: transparent and easy-going. Besides, we're in a small Maine town. Even if we wanted to, it would be a pretty dopey idea to overcharge our guests or underestimate them on their trades. We wouldn't still be open if we weren't as fair as possible with our guests. Word gets around, and there's not much around in Maine for word to get.