Where are Subarus Made? | Which Subaru Models are Built in the U.S.?
Subaru currently makes the Legacy sedan, Outback, and Tribeca crossovers in Lafayette, Indiana. Subaru BRZ, XV Crosstrek, Impreza, WRX, STi, and Forester models are built in Japan.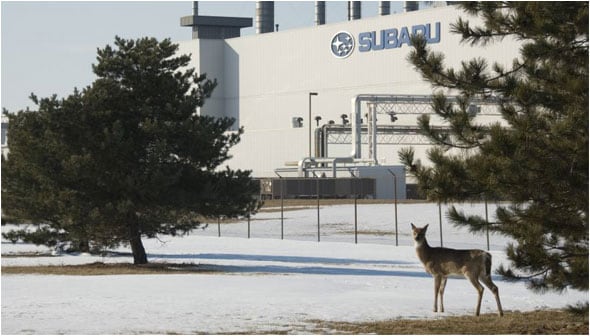 Subaru of Indiana, Automotive Inc. in Lafayette, Indiana. Subaru of America photo.
Currently the Subaru Impreza is built in Gunma, Japan, but Subaru parent Fuji Heavy Industries stated Tuesday that starting in 2016, the Impreza will be built here in the U.S., at the same Indiana plant where the Outback, Legacy, and Tribecas are currently made. (Subaru also builds the Camry at the same plant, for Toyota.)
According to Hans Greimel of Automotive News, "Subaru plans to invest $400 million to expand the Indiana facility by expanding the second of two assembly lines and hiring 900 workers."
Fuji Heavy Industries president Yasuyuki Yoshinaga said the Subaru capacity at the Lafayette, Ind., plant will grow to 300,000 vehicles a year, up from 200,000 a year currently.
Quoting the Automotive News article, "The move comes as Subaru earned record annual results in unit sales, revenue, operating profit and net income for the fiscal year ended March 31. The automaker is focusing on U.S. expansion, as plans to begin production in China remain stymied by failure to win approval from the government in Beijing.
Still, Subaru says it needs the extra capacity in North America to keep up with booming demand for its all-wheel drive vehicles.
"Our U.S. business is advancing at faster than expected," Yoshinaga said. "Sales will reach another record this year."
U.S. sales reached a record 358,000 units in the fiscal year ended March 31. They are expected to climb to 385,000 in the current fiscal year ending March 31, 2014, for a fifth straight year of all-time highs and their sixth straight year of growth.
Indeed, the forecast puts Subaru ahead of its 380,000 target for the fiscal year ended March 31, 2016. Yoshinaga did not update that mid-term goal, despite being poised to eclipse it.
But Executive Vice President Mitsuru Takahashi said U.S. sales will likely surge to 500,000 units by 2020.
"By that year, global sales could hit 1 million," he added.
Automotive News' Diana Kurylko reports that "on May 1, Subaru's U.S. dealers had an average of 39 days of supply -- an increase of three days from April 1, according to the Automotive News Data Center.
Despite the shortage of vehicles, Subaru expects to sell at least 380,000 vehicles this year in the United States, up from a record 336,441 in 2012, Subaru of America President Tom Doll has said.
Subaru was the only brand to record a U.S. sales increase in 2008 as the market skidded into recession. The company posted double-digit sales gains in three of the four past years. Sales rose 1 percent in 2011, when Japan's automakers were rocked by natural disasters.
Subaru sales advanced 17 percent to 125,470 through April, in an overall market that's up 7 percent.
About the Subaru of Indiana Facility:
In 2004, Subaru of Indiana became the first manufacturing facility in the United States to reach zero-landfill status and all Subaru vehicles are built in zero-landfill plants, where 100% of manufacturing waste is either recycled or turned into electricity. This means since May of 2004, Subaru's manufacturing plants have not sent any waste to landfills.
Also, Subaru of Indiana Automotive is the first and only plant in the United States to be designated a Backyard Wildlife Habitat by the National Wildlife Federation. This is dedication at its finest.
Source 1: Read more: http://www.autonews.com/article/20130508/OEM01/130509894#ixzz2Shx59uEQ
Follow us: @Automotive_News on Twitter | AutoNews on Facebook
Source 2: Read more: http://www.autonews.com/article/20130507/OEM01/130509900#ixzz2ShzaahHa
Follow us: @Automotive_News on Twitter | AutoNews on Facebook
Source 3: Subaru of Indiana, Automotive Inc. Subaru of America's Environment and Sustainability Story:
www.subaru.com/csr/environment-sustainability.html
Have more questions? Try our
FAQ
.