STEER CLEAR OF EXTENDED WARRANTY SCAMS
Did you just receive an extended warranty notice in the mail? One that reads "Factory Warranty Expiration" or "Request for Immediate Action--Time Sensitive Material"? Beware of the many extended warranty scams circulating lately.Recently we have had a number of people call about these letters.
Our friend Elaine called today, in tears, after she got off the phone with one of these scam companies trying to get her to pay $2,000 on her credit card! Luckily Neil, our service manager, was able to talk to her and straighten it all out. Don't let these companies push you around! Shred the letters, or if the companies call, ask to be removed from their list. We have attached a link to the National Do Not Call Registry below for your convenience. Please note, you have to be calling FROM the number you want added to the registry. (This service is even available for cell phones, provided you call the number from your cell phone.)
Check out the examples below and see if they are similar to yours.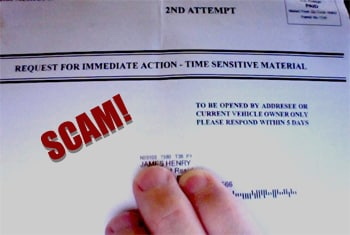 Warranty Scam Letter Example 1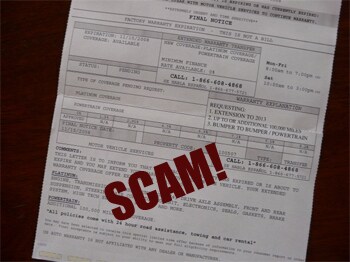 Warranty Scam Letter Example 2
HOW DOES MY INFORMATION GET ON THESE SCAM COMPANIES LISTS?
Stanley Subaru does NOT give out your information to unauthorized parties, nor do we sell your personal information. (You can view our Privacy Policy for details.)
Unfortunately, when you register your vehicle with the State, your VIN number is reported, then it is sold to third party companies by the State, much like your phone number and address end up in the hands of telemarketers and junk mail companies. This list of VIN numbers ends up in the hands of fake Extended Warranty companies trying to scam you out of money. Unless the letter comes directly from Stanley Subaru, with our logo on it or from Subaru of America with the Cherry Hill, New Jersey address, you can bet it is a scam. The photos below are actual photos of the postcards that we (Stanley Subaru) send out to our guests when the original factory warranty is close to expiring: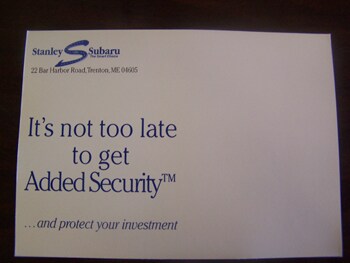 Front of Actual Stanley Subaru Warranty Post Card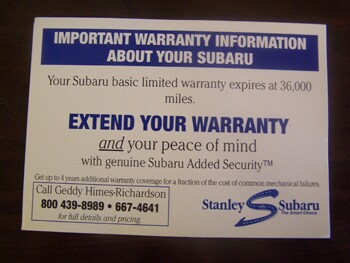 Back of Actual Stanley Subaru Warranty Post Card
If what you received in the mail does not look like this postcard, or have our Stanley Subaru logo on it, you can throw it away. Our postcard has our Business Manager, Geddy Himes-Richardson's name on it.
Subaru warranties are made by SUBARU of America, Inc. ("SOA"), SUBARU Plaza, P.O. Box 6000, Cherry Hill, NJ 08034-6000. You can purchase an optional extended warranty from Subaru called Subaru Added Security (the only extended service contract backed by Subaru of America, Inc.) On the surface many independent coverages appear to look like ours. The problem is they often require the use of inferior replacement parts, exclude important coverages like wear and tear, or make it extremely difficult to collect benefits. Often these companies are out of business before customers have a chance to submit claims or reimbursements. Find out more about Stanley Subaru's Warranties.
Stanley Subaru, Subaru of America, and the Federal Trade Commission (FTC) urge you to be skeptical of mail and phone calls warning that the warranty on your car is about to expire. The companies behind the mail and calls may give the impression they represent your car dealer or manufacturer. With phrases like Motor Vehicle Notification, Final Warranty Notice or Notice of Interruption, they are trying to make the offer seem urgent - and to get you to call a toll-free number for more information. The FTC offers the advice below on how to protect yourself from automobile warranty scams.
How You Can Protect Yourself:
1. If you get mail or phone calls about renewing your vehicle warranty, don't take the information at face value. Your vehicle's warranty may be far from expiring - or it may have expired already. If you have a question about your warranty, check your owner's manual, call Stanley Subaru at 207-667-4641 or, if you have a vehicle made by another manufacturer, (like a Chevy, Ford, or John Deere, for example) contact that company directly.
2. Be alert to fast talkers. Telemarketers pitching auto warranties often use high-pressure tactics to hide their true motive. Take your time. Most legitimate businesses will give you time and written information about an offer before asking you to commit to a purchase.
3. Never give out personal financial or other sensitive information like your bank account, credit card or Social Security numbers - even your driver's license number or Vehicle Identification Number (VIN) - unless you know who you're dealing with. Scam artists often ask for this information during an unsolicited sales pitch, and then use it to commit other frauds against you.
4. Be skeptical of any unsolicited sales calls if the call is a recorded message or if your phone number is on the National Do Not Call Registry. You shouldn't get recorded sales pitches unless you have specifically agreed to accept such calls, with few exceptions - read New Rules for Robocalls to learn more. And if your number is on the National Do Not Call Registry, a salesperson may call you only if you have agreed to accept calls from the company the salesperson works for, if you have bought something from the company within the last 18 months or if you have asked the company for information within the last three months. To report violations of the National Do Not Call Registry or to register a phone number, visit DoNotCall.gov or call 1-888-382-1222.
As always, if you have any questions at all, please call Stanley Subaru at
207-667-4641 or Toll Free 800-439-8989. We will be more than happy to answer your warranty questions. You are our guest, an extension of our family. We want you to feel safe and secure with your Subaru vehicle, and are glad to answer your questions, ease your anxieties, and help in whatever way we can.