Buddy to Buddy is a program that encourages all women to take control of 
their own breast health and inspire their buddies to do the same. 
Stanley Subaru is Proud to Support WLBZ2's Buddy to Buddy Program


Every woman is at risk for breast cancer.  The facts are that one woman in eight will likely develop breast cancer in her lifetime.  The good news is that early detection can significantly increase the likelihood of survival.  Luckily there is a  growing awareness of the importance of monthly breast self exam, of regular visits to the doctor, and depending on her age and health history, yearly mammograms. See more information on Breast Cancer here.

Every month, WLBZ  NEWS CENTER 2  anchors will bring you comprehensive reports and information about breast cancer and the importance of early detection.  


Here are the most recent articles from WLBZ's Buddy to Buddy program:
December 2015
(NEWS CENTER) -- The new guidelines from the American Cancer Society on when women should get a mammogram is causing a lot of confusion.
The baseline for woman to get checked used to be 40 years old, but now the Cancer Society says you can wait until 45, citing statistics that state few lives are actually saved by earlier mammograms. Of course, genetics or other concerns would change that.
This means the average woman who wants a mammogram before age 45 may have to push for one. NEWS CENTER's Cindy Williams spoke to one woman who did just that, and it made all the difference.
Life has been anything but smooth sailing for Anna Redding and her family over the last year or so. Her newborn nephew died, a dear friend was diagnosed with breast cancer and she was haunted by the feeling that something in her left breast just wasn't right.
"I did a self exam and it seemed normal. I followed up with an OB and she did an exam and again it was normal," Anna recalled "But I couldn't shake this feeling that something was wrong."
Life for a mother of a three and six year old is busy and even though her breast was tender at times, she tried to write it off as her body changing with age. But one day while lighting a candle for her nephew, Anna had a moment of clarity. She was going back to the doctor.
"I cried through the entire conversation and she said OK, let's get a mammogram," Anna explained.
There was no question about what it showed.
"I thought it was going to be some obscure thing they had to point out," Anna said. "And when they put it up it was everywhere. It took my breath away."
It was cancer of the milk ducts in her left breast only and they caught it just in time. Anna was 39 years old.
According to the new guidelines from the American Cancer Society she should not have had even a baseline mammogram for another 6 years but had she waited even 6 months longer, her doctors say the cancer would have spread to other parts of her body.
"My chances of getting cancer were one in tens of thousand. You hear that and say yeah, well that's a very small chance. Seems that way until it's you looking at your children, thinking I need to be here to raise them," Anna said. "For me, for them, for my husband, my family , my friends-- this one life matters. It scares me to think that other women could be missed."
Because doctors caught the cancer before it metastasized, Anna had better treatment options. No chemo, but she did have a mastectomy and reconstruction.
Anna said, "my body was telling me you have a problem. Two important things happened after that. One, I stopped and listened. Two, I went to doctor who listened to me."
Since then, Anna had gone through her list of other doctors and if she didn't feel they listen to her, she found another one who does.
Traversing the rocky landscape of the healthcare is not something you can do alone, but Anna says she's learned that you alone have to lead the way.
"I would never tell any woman you must have a mammogram," Anna said. "But I would say a story like mine should be a factor in your decision."
November 2015

BANGOR, Maine (NEWS CENTER) -- For years people with cancer have worried about, joked about, and been frustrated by the mental cloudiness they sometimes notice before, during, and after cancer treatment.
Some doctors and patients see a link between memory problems and chemotherapy. November's Buddy to Buddy report focuses on Terry Coolong and her battle with "Chemo Brain".
It's a familiar term to cancer survivors, who say treatments can cause thinking and memory problems.
Coolong says, "I asked my daughter to go get those things from the kitchen that cut paper. I know it's scissors. I could actually see the word scissors. I could of spelled it for her, but I could not say the word. And that's kinda how my chemo brain manifested."
Chemo fog was a term Terry knew very little about until she was diagnosed with invasive ductile carcinoma on her 45th birthday. She wanted to beat breast cancer. But she didn't realize all the side effects that come along with cancer treatment.
Coolong says, "I felt like my thinking was really slowing down and I was having a lot of problems and grasping words."
Dr. Robert Ferguson says patients will complain that remembering what was said, or what a person read and recalling conversations can be challenging after undergoing chemotherapy.
Ferguson says, "The memory problem does not get more progressive over time it's very important that all cancer patients be aware of. People will not end up with an Alzheimer type dementia." He adds, "When they are resuming their normal level of activity and going back to work full time-- there is some interference and not able to perform at the speed at which they wish too."
In time, Coolong realized this is her new normal. She learned to accept that a new normal is what you are going to live with for the rest of your life. Coolong says, "So, you can either fight against it or you can accept it and try to do the best that you can."
Dr. Ferguson says 'chemo brain' isn't something to deter you from cancer treatment it's just a possible side effect found in some cancer patients. He is researching new cognitive behavioral therapy, that's helping patients change and modify their thinking and behavior.
October 2015

AUBURN, Maine (NEWS CENTER) -- We talk a lot about cancer, but what can we really do to help? One woman broke out of the box in coming up with a way to support patients and their families. She just happened to set a Guinness World Record in the process.
Karate is about strength, both mentally and physically. At the Phoenix Karate Studio in Auburn, Donna Harris is always looking for ways to teach her students valuable lessons about life.
And some of those lessons are painful.
Last year, Donna, along with everyone here at NEWS CENTER, lost a dear friend and colleague.
Ann Murray Paige battled metastatic breast cancer for 10 years. In that time she produced a documentary, wrote a book, and started a foundation to help cancer families.
Donna says Ann was the strongest woman she knew. That Ann always told her you have to show up. Donna says " This is my way of showing up for breast cancer awareness."
THIS is Donna's attempt to get in the record books for the most pine boards broken, by hand, by a woman, in a minute. She tried it last year and raised money for Ann's foundation "Project Pink". But she did not break enough boards.
This year she has been training hard, and decided to try again.
On Saturday, surrounded by her karate students and families, Donna went for the record again at the Lewiston Armory.
She had to break a hundred boards to get in the record books. She broke 161.
But as she told all who turned out.. this was not about her.
"My battle didn't include chemo and radiation and surgery. Those are the truly strong people. "
Click here to donate. All money goes to Ann's foundation "Project Pink" which supports cancer patients and donates Ann's book to the newly diagnosed.
---
Click here to visit the Buddy to Buddy page on WLBZ2's website. 
 Breast Cancer Awareness Icon for Subaru Badge of Ownership

Now available for your FREE Subaru Badge of Ownership, the pink-ribbon icon is the only one that features an illustration in color. That will help it stand out and show your support for a cause that touches almost everyone.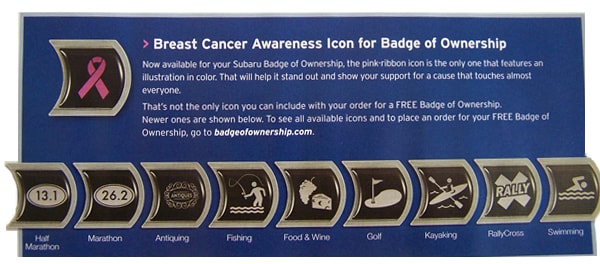 Learn more about how to request your free badge of ownership.