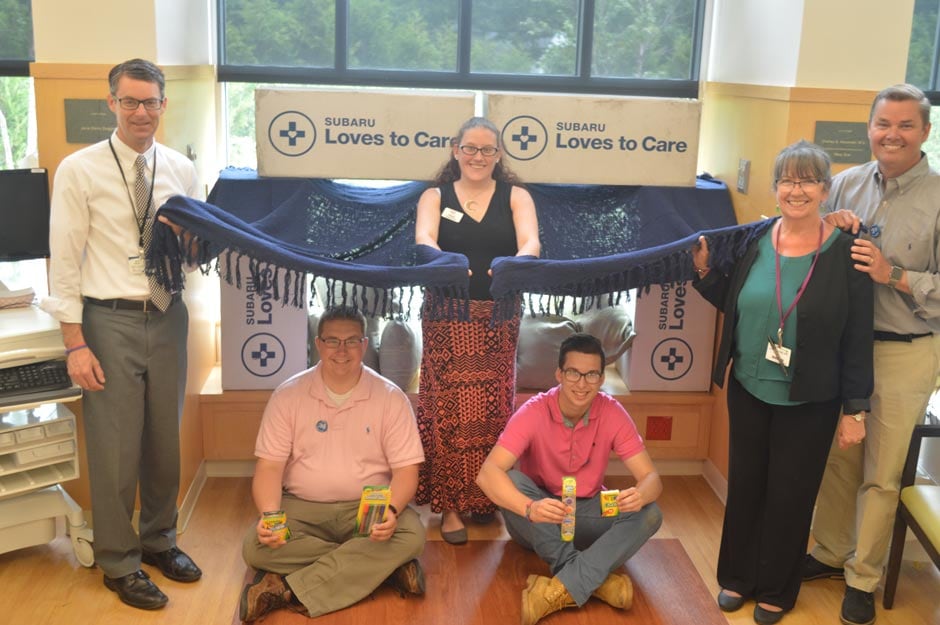 Jack Frost, director of philanthropy MCMH; David Grant, sales consultant, Stanley Subaru; Rebekka Farquharson, campaign specialist, Leukemia & Lymphoma Society; Kyle Townsend, service administrator, Stanley Subaru; Jayne Wixon, RN, CRNI, director of oncology MCMH; and Mark Politte, owner, Stanley Subaru
Maine Coast Memorial Hospital patients in the Mary Dow Center received a special delivery on Tuesday, June 27, 2017 as Stanley Subaru delivered 80 blankets and 10 arts and craft kits to Maine Coast Memorial Hospital as part of a partnership with Subaru of America and the Leukemia & Lymphoma Society. Stanley Subaru Sales Manager Charlie Skovgaard says, "we're excited that Subaru is offering this program, because it gives us another way to support patients in our community." Since 2009, Stanley Subaru has raised over $12,000 for cancer care at Maine Coast Memorial Hospital through Test Drives for the Cure each October.
The Mary Dow Center has 10,000 patient visits a year, including Oncology and other infusion treatment services. Blankets are a great gift for those patients undergoing cancer treatments, offering warmth and comfort during infusion treatments that require patients to remain seated for a period of time. Anyone who has spent any time in the Mary Dow Center, or even visited for a tour of the facility has more than likely seen one of many puzzles, at various stages of completion, during their visit. Along with puzzles small arts, crafts, books, and digital entertainment are popular ways to pass the time for patients of all ages.
"Support from community members and businesses like Stanley Subaru help community hospitals improve care in so many ways. Frequently when people think about donations we focus on fundraising that helps us purchase equipment and supplies, but gifts like these blankets, or the small cloth teddy bears in the Emergency Department, make a huge impact on the individual experience of patients we treat every day," says Jack Frost, director of philanthropy.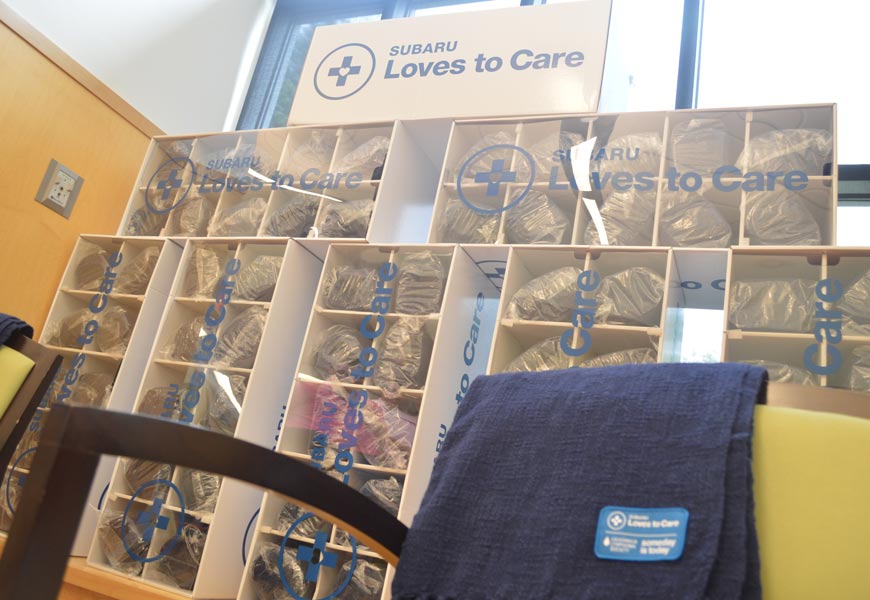 ?