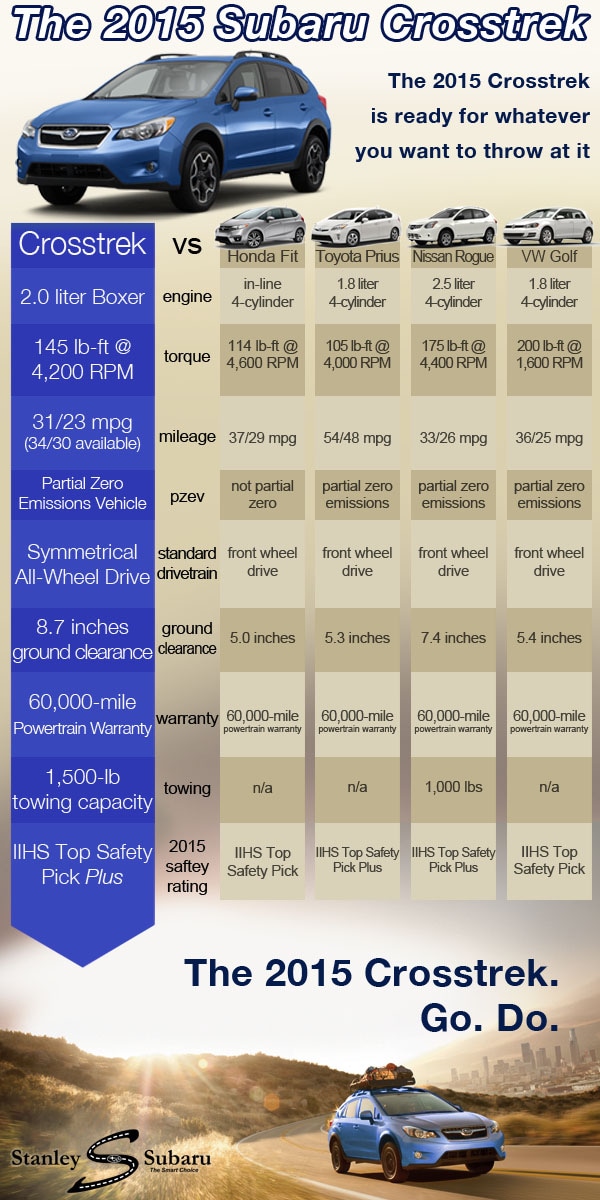 The 2015 Subaru Crosstrek is simply the best car for doing.
Roof rails? Standard.
The Crosstrek has the best towing capability around.
The Crosstrek has a full 8.7 inches of ground clearance. Didn't have time to shovel that snow before you had to go? No problem. Want to take the side road up the mountain for the best hiking? Got you covered.
The Crosstrek is the only vehicle in its class that has Symmetrical All Wheel Drive standard. That means every wheel gets power, and is adjusted instantaneously as needed. This is a video of Symmetrical All Wheel Drive in action on a Forester:
A new 6.2-inch infotainment system in the XV Crosstrek 2.0i, 2.0i Premium and XV Crosstrek Hybrid models uses a 6.2-inch touch display with rear vision camera, swipe and scroll multi-function control for audio and other features. System features Subaru STARLINKTM smartphone integration with AhaTM Infotainment, Pandora® and iHeart® Radio. (4 speakers for the 2.0i; 6 speakers for Premium trims).
XV Crosstrek 2.0i Premium with EyeSight and 2.0i Limited get new mid-range infotainment system with features included in the standard system plus 7-inch multi touch gesture display screen, SiriusXM® Satellite Radio (subscription required), voice activated controls and dual USB ports (6 speakers). A color LCD in the gauge cluster has been added.
In the compact crossover class, it takes a lot to attract attention, but the 2015 Subaru XV Crosstrek pulls it off. For one thing, it's the only vehicle of this type that's available as a gas-electric hybrid in addition to the standard gas-powered model. For another, it feels more carlike than most rivals. That's because it really is a car -- a Subaru Impreza wagon, to be precise, but with some beefed-up suspension components, a higher ride height and tougher-looking styling.
MotorTrend's drive of the 2014 XV Crosstrek Hybrid:
Going in, I thought Subaru's ploy of using Iceland to showcase its capability claim would turn out to be mostly bogus; marketing hype. Fun, but we could have done the same thing in San Diego. After three days of both pushing the electrified CUV to its limit and living through the most harrowing conditions of my career (I ate horse), I can say the Subaru XV Crosstrek Hybrid is indeed gifted. Nearly [every] one of the Icelandic monster-truck driving support crew expressed some variation of, "I can't believe this car made it here." Even Subaru's own engineers seemed shocked at what their jacked up Impreza was able to traverse. So much so that there's talk of making Iceland's frozen wasteland part of the normal Subaru testing regiment. What this expedition taught me is that they don't need to do that. The XV Crosstrek Hybrid already is capable of the near impossible. Gets pretty decent mileage, too.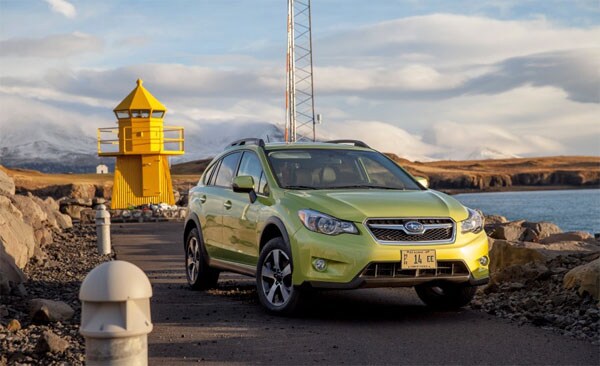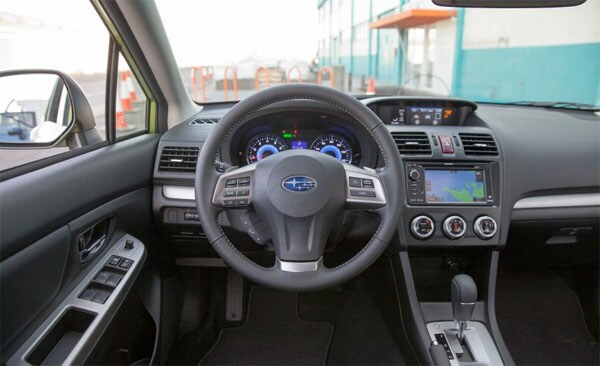 Car and Driver wrote about the 2015 Special Edition XV Crosstrek:
Subaru is on an absolute tear right now, topping a half-million annual sales in the U.S. for the first time ever in 2014. To celebrate, it has introduced a special, limited-edition XV Crosstrek that will be rather hard to miss.
Rendered in Sunrise Yellow with black fender and rocker trim, black 17-inch wheels, roof rails, black headlamp bezels, and darkened glass, the XV Crosstrek Special Edition is based on the mid-grade 2.0i Premium trim level. It then adds the Starlink multimedia package with satellite radio and dual USB ports, as well as the all-weather package that brings heated seats and mirrors and a windshield wiper de-icer. Also included are a sunroof, a leather-covered steering wheel and shift lever, keyless access, push-button starting, and pin-code access.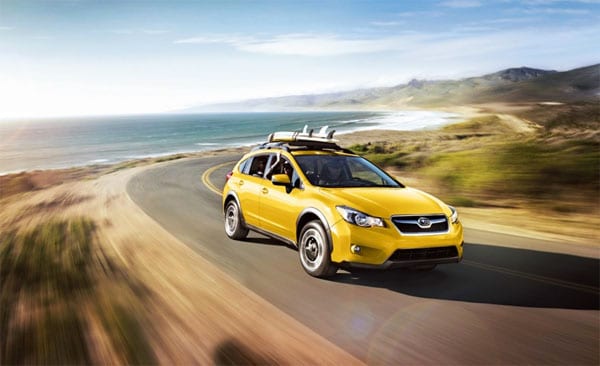 See our new Subaru XV Crosstreks here. Go. Do.